Kidambi receives NSF Early Career Award to support atomically thin membrane research
Piran Kidambi has received a 2020 National Science Foundation Faculty Early Career Development grant.
The five-year, $500,000 grant—Deconstructing Proton Transport through Atomically Thin Membranes—begins July 1, 2020.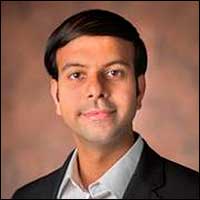 Kidambi, assistant professor of chemical and biomolecular engineering, will use the award to support his research on membrane technology. His work focuses on  atomically-thin two-dimensional materials that allow subatomic particles (e.g., protons) to selectively pass through the membrane while blocking even small gas atoms such as helium.
"The ability to separate protons from other atoms and molecules will enable disruptive innovations in energy generation and conversion, chemical processing and separations, electronics  and environmental protection," Kidambi said.
The project aims to develop fundamental understanding of proton transport through 2D materials. These scientific insights will be leveraged to develop novel catalytic and separation processes, he said. This research is supported by a NSF Faculty Early Career Development grant #1944134.
In 2018, Kidambi received competitive research grants from ACS Petroleum Research Fund Doctoral New Investigator Award and Oak Ridge Associated Universities—the Ralph E. Powe Junior Faculty Enhancement Award.
At Oak Ridge National Laboratory, Kidambi is collaborating with a team of researchers in the Center for Nanophase Materials Sciences for atomic resolution imaging of 2D materials using scanning tunneling microscopy and scanning transmission electron microscopy to realize a new kind of membranes that are only one atom thick.
His research in 2-dimensional materials synthesis, device integration and processing for applications has been recognized by several awards and honors, including the Lindemann Trust Fellowship UK, the Elizabeth Mabel Burnett Prize from Cambridge, and first prize in the ABTA Doctoral Thesis Award.
Kidambi received a Ph.D. in engineering from the University of Cambridge, a M.S. in process engineering from the Swiss Federal Institute of Technology (Zurich), and a bachelor's degree in chemical engineering from the National Institute of Technology in India. He joined the School of Engineering faculty in 2017.
CAREER: The Faculty Early Career Development (CAREER) Program is a foundation-wide activity that offers the National Science Foundation's most prestigious awards in support of early-career faculty who have the potential to serve as academic role models in research and education and to lead advances in the mission of their department or organization.
Contact: Brenda Ellis, 615 498-8975
brenda.ellis@vanderbilt.edu
Posted on Friday, January 10, 2020 in 2D materials, atomically thin membranes, NSF CAREER Award, NSF Faculty Early Career Development grant, Piran Kidambi,Alumni, Chemical and Biomolecular Engineering, Home Features, News, News Sidebar, Research