Kyser Miree Scholarship supporters launch challenge to expand opportunities for engineering undergraduates
Donors aim to grow endowment to $1M with matching campaign 
A $1 million matching gift challenge by a donor is marking the tenth anniversary of the Kyser Miree Scholarship for undergraduate students in the School of Engineering.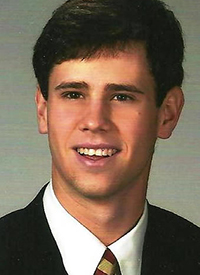 This scholarship was established in 2010 to recognize the life and leadership of Kyser Miree, BE'09, a magna cum laude graduate with a degree in mechanical engineering who served as president of Vanderbilt's Sigma Alpha Epsilon chapter. He was shot April 16, 2010, during an invasion of his home in Mobile, Alabama.
"Kyser's footsteps are big, but we walk in them nonetheless, intent as they were on establishing something special, something unique, something lasting," said Ben Miree, Kyser's father, whose generosity empowered the match challenge. "His friends established this scholarship to make a permanent difference for others on his behalf."
Since 2011, the scholarship has provided need-based support to multiple students. Matthew Stein, BE'15, the first recipient of the scholarship, said of its impact: "When I was accepted to Vanderbilt, there was a huge rush of excitement, but it was met with worry about how my family and I would afford it. This scholarship is what helped make Vanderbilt a reality. While on campus, Kyser Miree was always in the back of my mind. He left an incredible legacy and was a constant source of motivation and inspiration. Even to this day I'm reminded that everything Vandy gave me — the education, the friendships, the memories, the opportunities — were all made possible through Kyser and this scholarship."
For Ellison Kang, the current recipient of this scholarship, this opportunity brings him a step closer to following his dream of becoming a doctor. "Eventually, I hope to become a surgeon. Although I may not be directly involved in the field of engineering, I know I'll constantly use how I learned to think thanks to my engineering background. I appreciate the leap of faith that everyone who supports this scholarship has placed in me and my future."
Two of Kyser's fraternity brothers, Wyatt Smith, BS'10, and Collin Bird, BA'09, are among the volunteers supporting the challenge.
"Kyser's leadership and focus on making an impact in the world lives on in multiple ways, including this scholarship," said Smith. "We want to continue his legacy through this challenge and expand opportunities for Vanderbilt students."
"Kyser approached learning with an everyday practicality, natural agility and ferocious discipline. But what came through when you first met him was a carefree engaging persona and an offbeat sense of humor," said Bird. "These traits and his care for people made him a natural leader. His character is something all Vanderbilt engineering students should do their best to exemplify."
The matching campaign runs through August 31, 2021, and has a goal of establishing a $1M endowment to permanently support approximately full-tuition scholarships in the School of Engineering.
Tax deductible gifts can be made to the Kyser Miree Scholarship online.
#  #  #
For more information or for questions about how you can support this scholarship, please contact alumniengineering@vanderbilt.edu or call 615.322.4730.
---
Contact: Brenda Ellis, 615 343-6314
brenda.ellis@vanderbilt.edu
Posted on Tuesday, September 8, 2020 in Kyser Miree, Kyser Miree Scholarship, mechanical engineering, scholarship, School of Engineering,Alumni, Home Features, Mechanical Engineering, News, News Sidebar