New faculty Maizie Zhou: Unlocking genetic disorders through Big Data
While studying prefrontal cortex development in adolescents, neuroscientist Maizie Zhou came to a realization that would dramatically alter her career path. Seeing how widespread autism was, but how few answers the scientific community had for those affected by it, she decided a different approach—one that is more data-driven and computational—was needed to understand the disorder. So she did what many would consider unthinkable and went back to school to earn a second Ph.D., this time in computer science.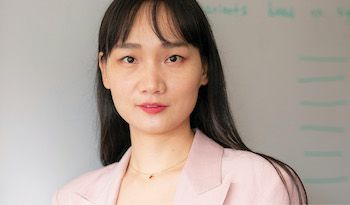 "Beginning a second Ph.D. was a terrifying decision," says Zhou, a native of China who holds doctorates in neuroscience from Wake Forest School of Medicine and computer science from Stanford University. "There were nights I couldn't sleep, wondering if I had made a terrible mistake. Fortunately, the journey I took had a positive outcome."
Zhou, a new assistant professor of biomedical engineering, blends bioinformatics, computational genomics, neuroscience and machine-learning techniques to understand how the brain enables us to behave intelligently and how specific genomic mutations can alter that process. Her lab develops algorithms for the analysis of genomic data and text-mines published research, linking genetic variations and phenotypes (i.e., observable physical traits caused by genes). By combing through huge quantities of data to map out the range of normal functions of the brain, she aims to illuminate the root causes of neurological disorders such as autism so that, ultimately, treatments can be developed.
"In spite of its pervasiveness and that genetic factors are estimated to account for close to 90 percent of a child's likelihood to develop autism, we have been able to pinpoint the genetic causes of only a quarter of autism cases," says Zhou. "It's incredible, when you take into account the familial and societal impact of this disorder."
Zhou, who is a member of Vanderbilt's trans-institutional Data Science Institute, also looks more broadly at human genomics and metagenomics—the study of genetic material recovered directly from environmental samples in order to study microorganisms—to understand brain development, dynamic behavior and the function of neural circuits. Beyond autism, her approach has applications for understanding causes and treatments of neurodevelopmental disorders like schizophrenia, bipolar disorder and major depression. Additionally, her work in artificial neural networks may impact the next-gen intelligent systems that promise to change the way we live and interact with technology.
Arriving in Nashville in July, Zhou could not be happier with how the transition has been for her and her students during this unusual year. "I feel comfortable teaching," she says, "and am very impressed with how Vanderbilt has managed physical distancing across campus." In her lab, there are three undergraduates already busy with research, and over the course of the semester, Zhou plans to pursue new research grants and recruit Ph.D. students with the support of senior faculty in her department.
Part of a MyVU series spotlighting a select group of new faculty for 2020-21.
Posted on Tuesday, December 1, 2020 in autism, big data, biomedical informatics, Data Science Institute, machine learning, neuroscience, Xin Maizie Zhou,Biomedical Engineering, Electrical Engineering and Computer Science, Home Features, News, News Sidebar