Neuroengineer joins School of Engineering Jan. 1, 2021
Christos Constantinidis has been appointed professor in the Department of Biomedical Engineering beginning Jan. 1, 2021. At Vanderbilt, he also will be a member of the university's Brain Institute and the Vision Research Center. He joins the School of Engineering from the Wake Forest School of Medicine.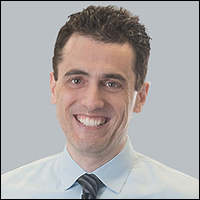 Constantinidis' research focuses on uncovering how neuronal activity in the brain impacts cognitive function. He is the principal investigator of National Institutes of Health grants studying cognition maturation in a nonhuman primate model, examining how functional properties of neurons change in the prefrontal cortex from adolescence through adulthood.
"I am delighted to be joining the engineering and neuroscience communities at Vanderbilt," Constantinidis said. "This is an ideal environment for my research program and presents tremendous opportunities for breakthroughs in basic science and human health."
He also studies nonhuman primates to understand how computerized task training impacts cognition and the organization of cortical networks. His expertise in computational analysis and modeling advances these studies, enabling further investigation of patterns of neural activity and connectivity. He will have secondary appointments in Neuroscience and Ophthalmology and Visual Sciences at Vanderbilt.
Other research efforts focus on improving cognitive function through deep brain stimulation and the use of embedded microelectrodes. Constantinidis studies how electric current impacts neural activity in the brain with the goal of discovering new approaches for dementia and Alzheimer's disease.
His honors include a Whitehall Foundation Award, an EMBO Fellowship and a McDonnell-Pew Foundation Program in Cognitive Neuroscience Award. He is the associate editor of the Journal of Neurophysiology and he serves on NIH and NSF Review Panels.
Constantinidis has published numerous papers and he is the co-inventor in a pending patent for a cholinergic deep brain stimulator.
Constantinidis earned his bachelor's degree from the University of Athens, Greece, and a doctorate in neuroscience from Johns Hopkins University. He served as a Postdoctoral Fellow at the Yale School of Medicine.
---
Contact:  Brenda Ellis, 615 343-6314
brenda.ellis@vanderbilt.edu
Posted on Wednesday, December 16, 2020 in Alzheimer's disease, biomedical engineering, Brain Institute, Christos Constantinidis, cortical networks, dementia, neuroengineering, Vision Research Center,Biomedical Engineering, Home Features, News, News Sidebar, Research