Nobel Laureate Frances Arnold to deliver the Hall Engineering Lecture Sept. 15
Nobel Prize-winning chemical engineer Frances Arnold will deliver the Vanderbilt School of Engineering's fall John R. and Donna S. Hall Engineering Lecture Tuesday, Sept. 15, at 4 p.m. CT.
Her lecture, "Innovation by Evolution: Bringing New Chemistry to Life," is free and open to the public. It will be live streamed and registration is required.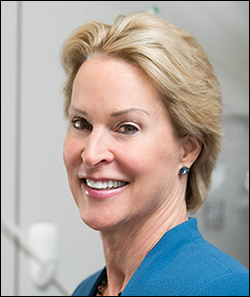 Arnold's work centers on enzymes called catalysts—molecules that speed up chemical reactions. Not satisfied with biology's vast catalyst repertoire, she wants to create new enzyme catalysts and expand the chemistry of life.
"We use the most powerful biological design process—evolution—to optimize existing enzymes and invent new ones, thereby circumventing our profound ignorance of how sequence encodes function. I will show that we can build sustainable, biological routes to important fuels and chemicals," Arnold said.
Arnold has pioneered directed enzyme evolution for which she received the Nobel Prize in Chemistry in 2018. She is the fifth woman to win the Nobel Prize in Chemistry since it was first awarded in 1901.
"Evolution can also innovate, generating new enzyme catalysts, with a little insight from chemistry. Whole families of new-to-nature enzymes increase the scope of molecules and materials we can build using synthetic biology and move us closer to a sustainable world where human-invented chemistry will be genetically encoded," she said.
Arnold's team at the California Institute of Technology (Caltech) has generated families of "new-to-nature" catalysts, increasing the scope of molecules and materials that can be built using synthetic biology.
Arnold is the Linus Pauling Professor of Chemical Engineering, Biochemistry, and Bioengineering and the Director of the Donna and Benjamin M. Rosen Bioengineering Center Division of Chemistry and Chemical Engineering at Caltech.
Arnold is the first woman to be elected to all three of the National Academies—Engineering, Medicine, and Sciences. She also the first woman to receive the Charles Stark Draper Prize from the NAE, in 2011. Arnold received the US National Medal of Technology and Innovation, awarded by President Obama in 2013, the Millennium Technology Prize in 2016, and appointed to the Pontifical Academy of Sciences by Pope Francis in 2019. In addition to her numerous awards and honors, she serves on several public and private company boards.
She currently holds more than 60 US patents and has cofounded three companies in sustainable chemistry and renewable energy.
Arnold earned a B.S. in mechanical and aerospace engineering from Princeton University and a Ph.D. in chemical engineering from the University of California, Berkeley.
The Hall Engineering Lecture Series was established in 2002 to allow the Vanderbilt Engineering community hear renowned engineers from universities, agencies and industry address engineering topics of particular interest. The series is funded by an endowment founded by James Gray to honor the Halls. John Hall, a 1955 Vanderbilt engineering graduate, is retired chairman and chief executive officer of Ashland, Inc.
---
The lecture registration link is https://vanderbilt.zoom.us/webinar/register/WN_-EVaGw-ARlqCI3lNnwYUJw
---
Contact: Brenda Ellis, 615 343-6314
brenda.ellis@vanderbilt.edu
Posted on Wednesday, August 26, 2020 in chemical engineering, directed enzyme evolution, Frances Arnold, John R. and Donna S. Hall Engineering Lecture, Nobel Prize in Chemistry,Alumni, Chemical and Biomolecular Engineering, Home Features, News, News Sidebar, Research