Rafat receives Young Investigator Grant from Breast Cancer Alliance
Recent research links post-radiation inflammation to TNBC patient outcomes
Marjan Rafat, Assistant Professor of Chemical and Biomolecular Engineering, has been awarded a Young Investigator Grant by the Breast Cancer Alliance.
The two-year, $125,000 award will allow Rafat and her research group to investigate how radiation influences tumor and immune cell recruitment in triple negative breast cancer. The project involves developing a 3D tissue model in which researchers can control and visualize cell behavior after radiation damage.
"We do not yet understand the ways that irradiated normal tissue affects recurrence," Rafat said. "Overall, this research will be crucial in determining what type of environment encourages recurrence, how we can stop recurrence, and ultimately discover new ways to improve breast cancer patient survival."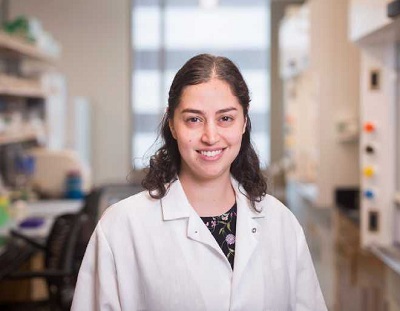 A recent, related study already helps correct the lack of information regarding post-radiation immunosuppression and treatment outcomes. Rafat found systemic inflammation after radiation treatment for triple negative breast cancer may be an independent marker of recurrence, treatment success, and survival.
The work is among the few studies that examine the relationship between post-radiation lymphopenia (a reduced level of an important type of white blood cell) and patient outcomes. The study, which is in preprint, was published online in International Journal of Radiation Oncology * Biology * Physics on Dec. 3, 2019.
As a cancer treatment, local radiation is effective in causing DNA damage to and eventual death of tumor cells. But radiation, or radiotherapy, damages some normal tissue as well, creating inflammation and an immunocompromised microenvironment.
The team conducted a retrospective study of patient outcomes from two research hospitals, Vanderbilt University Medical Center and Stanford Health Care, to examine the relationship between radiation and immunity markers available in routine blood samples. Systemic inflammation and immunocompromised status were independently predictive of tumor recurrence at or near the original site, progression-free survival and overall survival, they found.
Three measurements of systemic inflammation as potential valuable biomarkers following radiation treatment were identified: the ratios of neutrophils to lymphocytes (NLR), platelets to lymphocytes (PLR), and monocytes to lymphocytes (MLR).
Neutrophils are a type of white blood cell that helps heal damaged tissues and resolve infections. Monocytes are another type of leukocyte, or white blood cell, and can differentiate into macrophages, which play a big role in initiating the body's immune response. Lymphocytes account for the largest proportion of white blood cells and include natural killer cells as well as cells produced in response to a specific pathogen and those that produce antibodies. Platelets, which help with coagulation and healing, also are players in the immune system response.
The results support a larger, prospective study and incorporation of these inflammatory biomarkers in future clinical trials, Rafat said.
"The biomarkers used in this study are routinely obtained, cost-effective, easily accessible, and readily calculated from conventional blood tests," she said.
Patients were followed for a minimum of five-years from the end of radiation treatment. Patients were required to have at least one peripheral complete blood count with differential during radiation therapy or within one year after it was completed.
This work was supported by NIH Grant No. R00CA201304, National Cancer Institute Grant No. P30CA068485, and National Center for Advancing Translational Sciences Grant No. UL1TR000445.
---
Marjan Rafat, assistant professor of chemical and biomolecular engineering, was selected as the institutional nominee for the Breast Cancer Alliance Grant, which was announced as a Limited Submission Opportunity (LSO). LSOs are external funding opportunities where sponsors limit the number or types of applications Vanderbilt can submit. Research Development and Support (RDS), within the Office of the Vice Provost for Research, and Corporate and Foundations Relations (CFR), within the Office of Development and Alumni Relations, work together on private foundation and corporate LSO opportunities. RDS, manages the LSO process by proactively announcing funding opportunities, guiding researchers though a simplified internal application process, coordinating reviews from experts, and sharing constructive feedback on internal applications. Once a designee is selected, CFR is responsible for supporting faculty in preparing proposals to submit externally, including communication with private funders, proposal development strategy and feedback, logistical assistance for faculty presentations to funders, arranging institutional support, and coordinating proposal submission in collaboration with grants managers. Please visit the following to learn more about Limited Submission Opportunities and to subscribe to the LSO listserv. To learn more about Corporate and Foundation Relations, please visit the CFR webpage here.
Posted on Wednesday, February 19, 2020 in breast cancer, Faculty awards, Marjan Rafat, patient-tailored cancer treatment, VUMC, white blood cells,Chemical and Biomolecular Engineering, Home Features, Media, News, News Sidebar, Research