Record number of high school students compete in annual bridge challenge
The sound of a small basswood bridge failing under a heavy load is more of a whimper than a bang. The snap is audible but subtle, and Jessica Baker listened intently for it dozens of times Saturday.
Jessica, a junior at Blackman High School in Murfreesboro, was among a record number of Middle Tennessee students competing in the annual International Bridge Building Contest. The Nashville Branch of ASCE hosts a local contest, which counts as a qualifying regional competition for the international event.  Students, parents and ASCE volunteers gathered at the Laboratory for Systems Integrity and Reliability in MetroCenter for bridge inspection and testing.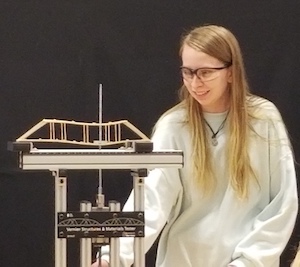 Jessica went first. Her bridge, required to weigh no more than 25 grams (less than an ounce) and span no more than 400 millimeters (15.8 inches) performed well. She tested the bridges of other Blackman students who could not attend. Nearly three hours after testing began, Jessica then won first place for designing and building the most structurally efficient bridge.
The 2020 contest set a record for local participation, said Janey Smith Camp, research associate professor of civil and environmental engineering. This is the 12th year for a local contest, which exposes students to civil engineering concepts and helps students prepare to the big event–the top two here qualify for the International Competition.
Before testing started ASCE Nashville volunteers weighed and measured 45 model bridges, checking to see whether they met specifications spelled out in the rules for the International Competition. The bridges also had to be built with load-bearing support at three identified locations. A drawing before testing determined all the bridges in Nashville were to be tested at the first spot along the span.
Not all the bridges qualified.
At least a dozen ASCE Nashville members volunteered their time. Organizations represented included the City of Nashville, Barge Design Solutions, AECom, Structural Design Group, WSP and CTC Consultants, in addition to the engineering school.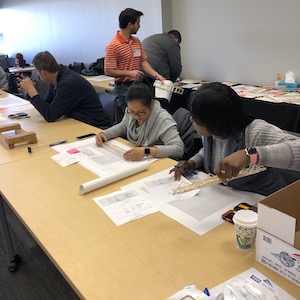 Participating schools were Blackman High School in Murfreesboro, East Hickman High School in Lyles, Pope John Paul II High School in Hendersonville, and John Overton and Cane Ridge High Schools in Nashville. Two dozen students were on hand Saturday; the others had their bridges tested without them.
Simplified, their goal was to create a bridge that did not weigh very much but supported a high load, measured in the contest by force applied to the loading plate, or total load before failure divided by bridge mass.
Jessica's bridge supported a load 670 times its own weight. Her bridge weighed 15.08 grams and supported 10.13 kilograms (about 22.3 pounds) for structural efficiency of 671.44. She took first place, and classmate Ayah Ahmad, another junior from Blackman, took second. They are eligible to take part in international competition in May. Hunter McCoy, a junior from East Hickman High School, came in third.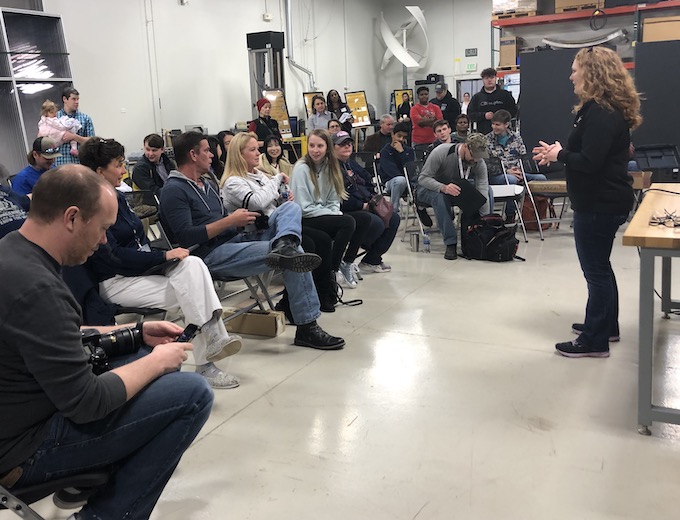 Posted on Monday, March 2, 2020 in ASCE, bridge, Janey Camp, STEM outreach,Alumni, Civil and Environmental Engineering, Home Features, LASIR, News, News Sidebar