Reinhart-King receives 2020 Chancellor's Award for Research
Cynthia Reinhart-King is one of five Vanderbilt professors who received a Chancellor's Award for Research at the Fall Faculty Assembly Aug. 27, 2020. This award recognizes faculty excellence in works published or presented in the last three calendar years. Honorees each receive a cash prize $2,000 and an engraved pewter julep cup. The annual event took place online due to the COVID-19 pandemic.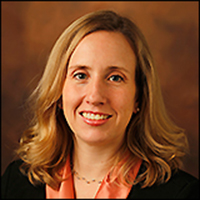 Reinhart-King, Cornelius Vanderbilt Professor of Engineering and Director of Graduate Studies in the Department of Biomedical Engineering, received the award for her article, "Energetic Regulation of Coordinated Leader-Follower Dynamics During Collective Invasion of Breast Cancer Cells," which appeared March 25, 2019, in  the Proceedings of the National Academy of Sciences. "By exploring the role of energy during cell migration, Cindy's cutting-edge work opens the door to new third-party options to target cancer metastasis," said Chancellor Daniel Diermeier.
In July, Reinhart-King received a three-year, $1 million grant from the prestigious W. M. Keck Foundation to support her ambitious research on cancer metastases. Her research uses approaches from tissue engineering, biomaterials, cellular engineering and mechanobiology to understand the role of the tissue microenvironment in disease with a focus on cancers metastasis, blood vessel growth, atherosclerosis and diabetes. The citations of her cellular bioengineering research number is in the thousands.
Reinhart-King is a fellow of the Biomedical Engineering Society and the American Institute for Medical and Biological Engineering, and she is a New Voices Fellow of the National Academies of Science, Engineering and Medicine. She currently is a standing member of the NIH CMT study section panel and secretary of BMES. Some of her awards include the Rita Shaffer Young Investigator Award, the inaugural BMES Mid-Career Award, and an NSF CAREER Award. She also has won numerous awards for teaching and mentoring.
Contact: Brenda Ellis, 615 343-6314
brenda.ellis@vanderbilt.edu
Posted on Friday, August 28, 2020 in 2020 Chancellor's Award for Research, 2020 Fall Faculty Assembly, biomedical engineering, breast cancer cells, cancer cell migration, Cynthia Reinhart-King,Alumni, Biomedical Engineering, Home Features, News, News Sidebar, Research