Study habits author, NSBE leader is Vanderbilt Engineers Week speaker, Feb. 20
Karl Reid has had great success: two degrees in engineering from MIT, a doctorate in education from Harvard and a fruitful career—first in the software industry, then in higher education, and now as executive director of a professional engineering society.
"But it didn't come easily," Reid said.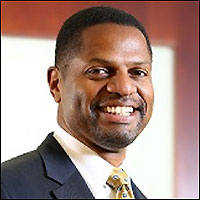 In his 2017 book, "Working Smarter, Not Just Harder," he offers a learning approach that helped turn things around for him as an undergraduate. "An approach that I refined as a doctoral student, a freshman adviser and a college dean," he adds.
As a part of National Engineers Week at Vanderbilt, Feb. 17-21, Reid, author and executive director of the National Society of Black Engineers, will talk about effective study habits at 4 p.m. Thursday, Feb. 20, in Jacobs Believed In Me Auditorium, Featheringill Hall 134. A reception at 5 p.m. in Adams Atrium follows the lecture.
"I was a good student in high school. However, like many who had early success, I hit a wall my freshman year," Reid said. "I soon realized that the learning strategies I employed in high school were ineffective in the more challenging environment, particularly in engineering."
Reid labels his strategies "shifts," as in shifting gears. He offers three specific shifts:  the attitude shift, the connections shift and the behavior shift.
"Doing the same thing harder and for longer periods of time is like revving an engine in lower gears. It doesn't get the job done," he said.
Reid worked in the computer industry for 12 years after graduating with bachelors and master's degrees in materials science and engineering from the Massachusetts Institute of Technology. Inspired by Jonathon Kozol's book "Savage Inequalities," Reid switched to a career in education. He worked at MIT initially as a director of Engineering Outreach Programs and freshman adviser, then associate dean and director of the Office of Minority Education, while attending the Harvard Graduate School of Education for his doctorate. He studied factors that contribute to success for black males in higher education.
In 2014, Reid was named executive director of the National Society of Black Engineers. The main goal of the Society's current 10-year Strategic Plan is to lead the United States to produce 10,000 black engineers annually by 2025. NSBE has more than 17,000 members and over 500 active chapters in the U.S.:  149 pre-collegiate, 291 collegiate and 84 professional chapters.
Reid sits on the DC STEM Council and holds memberships in the American Association of Engineering Societies, the American Society of Engineering Education, and the American Society of Association Executives. He recently was named a Top 100 Executive in America by Uptown Professional magazine.
Contact: Brenda Ellis, 615 343-6314
brenda.ellis@vanderbilt.edu