Two engineering professors granted emeritus titles
Two esteemed professors in the School of Engineering have been honored for their years of service and Vanderbilt University has bestowed on them the title of emeritus faculty.
K. Arthur Overholser is Professor of Biomedical Engineering and Chemical Engineering, Emeritus, and Prodyot (P.K.) Basu is Professor of Civil and Environmental Engineering, Emeritus.
A faculty member who has served the university with distinction over a period of years, and with recommendation of his or her dean and the chancellor, may be awarded the title "emeritus" or "emerita" by the Board of Trust.
Professor Overholser's time with Vanderbilt may be divided into two periods: research and teaching, 1971–1999; and academic administration, 1999–2019.
Professor Overholser applied the principles of transport phenomena to the study of combustion physics and cardiopulmonary physiology. He also collaborated with basic medical scientists in the study of cell physiology and kinetics. His graduate students have gone on to professorships and to senior industry positions.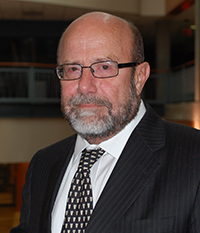 He was an early innovator in engineering education and the developer of the first freshman seminar program in the School of Engineering. He experimented with project-based education and self-paced learning. He emphasized learning objectives decades before they became expected by accreditors.
He received research awards and teaching awards at the school level and from the university, including the Ellen Gregg Ingalls Award for Excellence in Classroom Teaching in 1978.
As associate dean, Professor Overholser coordinated three successful cycles of reaffirmation by the Accreditation Board for Engineering and Technology, the disciplinary accreditor. He was involved nationally in ABET's Academic Advisory Board and the American Society for Engineering Education.
Significantly, he was an early advocate of the "one university" idea well before its articulation as a broader policy. He worked collaboratively with the other undergraduate schools and the provost's office to ensure that all undergraduates were treated the same and to help lower inter-school barriers to teaching and learning. He also collaborated with the offices of enrollment management, financial aid, athletics, and student life, and the Vanderbilt University Police Department. In 2006, he was honored with the Thomas Jefferson Award for service in the councils of the university.
Professor Prodyot K. Basu is a fellow of ASCE and SEI and holds a professional engineer license in the State of Tennessee. He served as a senior member of AIAA and full member of ASME, ACI, US/IACM, ACM, Sigma-Xi, SSRC, and other organizations. He has served on many technical and organizational committees of national and international professional organizations.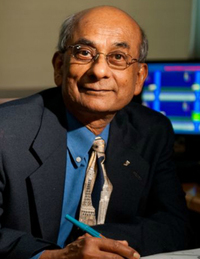 His professional and research contributions are in different aspects of performance and integrity of various components of interest in structural, mechanical, aeronautical, and environmental engineering. He has also undertaken research work in electrical sensors and biomechanics.
Professor Basu's research spans both in-lab and in-situ experimental investigation, development of analytical procedures, and implementing multi-scale numerical simulation schemes. He is known particularly for his seminal contributions in modeling and simulation of structures and components.  He has guided the research of more than 25 doctoral students and many master's students.
Professor Basu has more than 250 publications and he received sponsored research funding from various agencies including the National Science Foundation, the Federal Highway Administration, the Electric Power Research Institute, the AAR, the Air Force Research Laboratory, the Tennessee Department of Transportation, and more.
After teaching careers at India's National Institute of Engineering, Science, and Technology, and Washington University in St. Louis, he joined the civil and environmental engineering department at Vanderbilt in 1984. He served the department as director of graduate studies in civil engineering for a number of years and he served on Vanderbilt's Faculty Senate, chairing a major committee.
Contact: Brenda Ellis, 615 343-6314
brenda.ellis@vanderbilt.edu
Posted on Monday, May 11, 2020 in biomedical engineering, civil and environmental engineering, emeritus professor, K. Arthur Overholser, P.K. Basu,Alumni, Biomedical Engineering, Civil and Environmental Engineering, Home Features, News, News Sidebar