Two new endowed chair recipients in engineering honored at celebration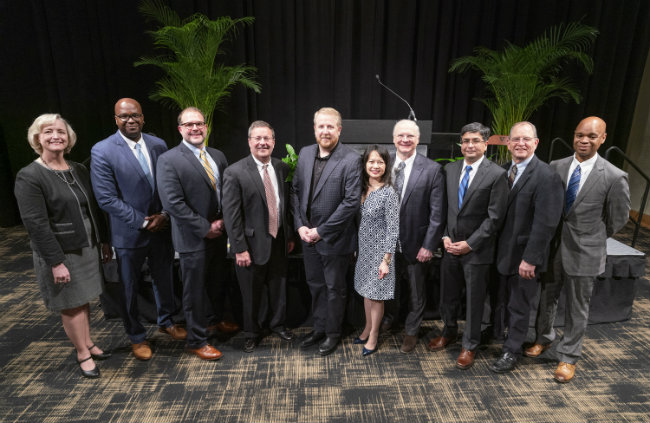 Two engineering faculty members named to endowed chairs were honored for their academic achievements during a celebration Tuesday, Feb. 25, at the Student Life Center. They were among nine Vanderbilt faculty members who are recipients of chairs.
The engineering professors are:
Craig Duvall, Cornelius Vanderbilt Chair in Engineering
Nilanjan Sarkar, David K. Wilson Chair in Engineering
"Craig Duvall and Nilanjan Sarkar have distinguished themselves among their engineering colleagues within and outside Vanderbilt as well as medical researchers and clinicians here and beyond," said Philippe Fauchet, Bruce and Bridgitt Evans Dean of Engineering. "Their academic reputations are outstanding and their dedication to their innovative research and to their students is exemplary."
"At Vanderbilt, endowed chairs are a symbol of commitment—to scholarship, philanthropy and lasting impact," said Interim Chancellor and Provost Susan R. Wente in her opening remarks. "Those being recognized today have taken diverse paths, but their goals are shared—to better the world through their scholarship, and to teach others how to do the same."
Duvall is a professor of biomedical engineering and his research focus is on the design and application of smart polymer-based technologies. The applications of these technologies are broad and include increasing the longevity and function of transplanted vascular grafts and cell-based therapies, promoting healing of chronic skin wounds, and developing improved breast cancer drugs.
He is a Faculty Fellow in the Vanderbilt Interdisciplinary Graduate Program in Materials Science, an Advisory Board Member of the Vanderbilt Institute of Nanoscale Science and Engineering, and a member of the Vanderbilt Diabetes Research and Training Center.
Duvall is biomedical engineering department's Director of Undergraduate Studies and a former member of the university's Graduate Faculty Council. He is an accomplished teacher and mentor to both undergraduate and graduate students.
His major awards include a National Science Foundation Early Career Development Award in 2014; a Presidential Early Career Award for Scientists and Engineers in 2017; a Chancellor Faculty Fellowship in 2018; and he was named a Fellow of the American Institute for Medical and Biological Engineering in 2018.
Duvall joined the Vanderbilt engineering faculty in 2010. He received his bachelor's degree in biosystems engineering from the University of Kentucky and earned his Ph.D. in biomedical engineering from the Georgia Institute of Technology and Emory University in 2006. He completed a postdoctoral fellowship at the University of Washington in 2010.
Nilanjan Sarkar is a professor and chair of the Department of Mechanical Engineering. Sarkar performs ground-breaking research with societal impact that includes technology-driven efforts to aid those with dementia, complications from stroke, social disorders and aging-related issues, among other conditions.
His latest projects aim to improve the success rate of people with autism spectrum disorders in the workforce. He uses artificial intelligence-based technology in these efforts to support this population and transition them into the workforce, and his corporate partners include companies such as Microsoft and Ernst and Young. Sarkar recently was awarded a $1 million grant from the National Science Foundation to partner with Fortune 500 companies to enhance the lives of U.S. workers.
Sarkar leads the Robotics and Autonomous Systems Laboratory in the School of Engineering. The lab's focus is both theoretical investigation into the dynamics of mechanical and electro-mechanical systems and the application of advanced planning and control strategies for controlling these systems. Primary research efforts are on the dynamics and control of autonomous dynamic systems, such as robotic manipulators, mobile robots, mobile manipulators and other robotic devices.
His research has been supported by the National Institutes of Health, the National Science Foundation, the Office of Naval Research, the Army Research Office, NASA, DARPA and several foundations such as the Marino Autism Research Institute, Autism Speaks Foundation and Brain and Behavior Research Foundation.
Sarkar is an author or co-author of more than 100 journal articles, 14 book chapters and more than 100 conference publications. He has advised 24 doctoral students, 12 master's students, four postdoctoral fellows and 59 undergraduates.
Sarkar is a fellow of the American Society of Mechanical Engineers. He has served as an associate editor, a guest editor and as a member of the editorial board of several journals including IEEE Transactions on Robotics, ASME Transactions on Mechatronics, and the Journal of Intelligent and Robotics Systems.
He has been honored with numerous awards at Vanderbilt including the Chancellor's Award for Research and the Excellence in Teaching Award.
Vanderbilt's first endowed chairs were established in 1918. The university now has a total of 434 endowed chairs as the university has stepped up its efforts during the past decade to recruit and retain outstanding scholars.
Contact: Brenda Ellis, 615 343-6314
brenda.ellis@vanderbilt.edu
Posted on Friday, February 28, 2020 in Cornelius Vanderbilt Chair in Engineering, Craig Duvall, David K. Wilson Chair in Engineering, endowed chair, Nilanjan Sarkar,Alumni, Biomedical Engineering, Home Features, Mechanical Engineering, News, News Sidebar