Two sweeping public health projects awarded NSF Convergence grants
BIG DATA SCIENCE AND ENGINEERING


 One project aims to set the stage for global monitoring of the biome for the early detection of pathogens and prevention of potential pandemics. A second project targets creation of a standardized platform that will streamline the development, testing and dissemination of technology to improve human health, starting with public and private COVID-19 data sets.
Vanderbilt engineers have the lead role in these ambitious efforts, which have their foundations in data science and artificial intelligence. The NSF has awarded both projects initial 2020 Convergence Accelerator Pilot grants.
The NSF Convergence Accelerator Phase 1 grants provide up to $1 million for nine months for teams to build a proof-of-concept for their solutions.
Janos Sztipanovits, E. Bronson Ingram Distinguished Professor of Engineering and director of the Vanderbilt Institute for Software Integrated Systems, is the principal investigator for "Deep Monitoring of the Biome Will Converge Life Sciences, Policy, and Engineering."
The project is the academic side of PREMONITION, a massive research initiative Vanderbilt started with Microsoft five years ago that is directed by Ethan Jackson, Ph.D.'07. Collaborators include Johns Hopkins University, the University of Washington, University of Pittsburgh Medical School, Microsoft, ClimaCell and the Harris County (Texas) Department of Public Health.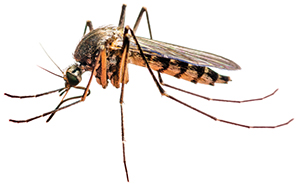 The project combines robotics, genomics, big data collection—and mosquitos. The goals include fusing novel biome and ecological data streams into unified data sets and generating predictive AI models for use across disciplines. New science and technology that emerges would have wide impact on human health, agriculture, national security and ecology.
"By accelerating the development of new predictive mosquito models, especially by generalizing them to additional species, this project will provide long lasting contributions to human health and pandemic preparedness," Sztipanovits said.
The second project, "Scalable, Traceable AI for Imaging Translation: Innovation to Implementation for Accelerated Impact," looks specifically at public health innovations based on artificial intelligence. Co-principal investigators Bennett Landman, professor of electrical engineering, computer engineering and computer science, and Ipek Oguz, assistant professor of computer science and computer engineering, are partnering with researchers from VUMC, the Society for Imaging Informatics in Medicine, and industry partners MD.ai and Kaggle.
The group will start with public and private COVID-19 data sets, including the National Institute for Health's open-source resources to address COVID-19, and COVID-Net, an open-source repository of chest X-rays developed by Canadian AI researchers.
There has been no standardized way of validating AI algorithms and calculating the true cost of bringing a technology to market, creating significant implications for product development.
"We are stopping the game of musical chairs when it comes to validating technology by building a clearer and more connected chain of events," Oguz said. "We're reframing the big picture by pulling everyone together to plan a system that works for the entire community."