Vanderbilt is key partner as Chattanooga named G20 Alliance 'pioneer city' for global smart tech roadmap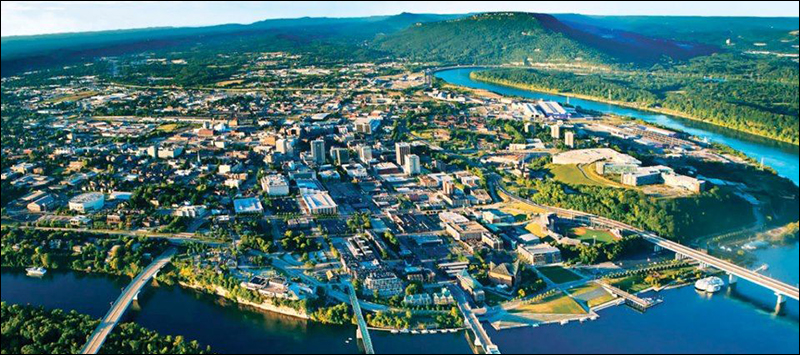 Chattanooga, Tennessee is one of only two U.S. cities that will pioneer a smart technology policy roadmap as part of the G20 Global Smart Cities Alliance and Vanderbilt researchers are playing a significant role in shaping the city's roadmap.
The announcement came last week from the World Economic Forum amid the global broadcast of the Smart City Expo World Congress. The first cohort of 36 global cities, including San Jose, California, are expected to trial policies detailed in the roadmap and work with alliance partners to address gaps and improvements.
The alliance, established in June 2019, includes global experts from government, private-sector partners and civil society who are compiling and analyzing policies from around the world to identify model policies for successful, ethical smart cities. The World Economic Forum, the International Organization for Public-Private Cooperation, serves as secretariat for the alliance.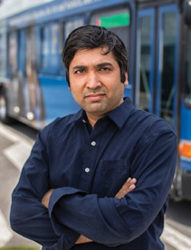 Vanderbilt researcher Abhishek Dubey, assistant professor of electrical engineering and computer science, is leading a number of multi-agency and multi-university smart city initiatives for the Chattanooga Area Regional Transportation Authority (CARTA) through a group of projects called Smart Transit. Grants from the National Science Foundation and the U.S. Department of Energy are supporting CARTA projects in Dubey's Smart and resilient Computing for Physical Environments Lab (SCOPE) within Vanderbilt's Institute for Software Integrated Systems. Through the endeavors, the research partnership is aiming to make the multi-modal and mixed transit fleet more energy efficient while maximizing the service coverage in the area.
"The alliance roadmap initiative is a manifestation of possibilities of interdisciplinary research being championed by the NSF under its 10 Big Ideas for future investments and pioneered by Vanderbilt under the CIVIC concept", Dubey said.  Through partnerships with strategic test beds, City Innovations through the Vanderbilt Initiative on Infrastructure Connectivity is turning cities into classrooms and laboratories where Vanderbilt researchers put their ideas into practice, he said.
"CARTA is excited to participate in this endeavor and to especially represent the needs of the mid-sized city in the development of transportation policies," said Philip Pugliese, CARTA General Manager of Planning and Grants. "Vanderbilt has been an important partner in this effort. Beginning with energy optimization of our mixed-vehicle fleet, we are looking forward to Vanderbilt's support in solving even more complex relationships between fixed-route, microtransit, and shared mobility solutions."
The alliance intends to analyze and identify model policies regarding equity, inclusivity and social impact; openness and interoperability; security and resiliency; privacy and transparency; and operational and financial sustainability.
The mid-sized city of Chattanooga offers "much in the areas of collaboration, entrepreneurship, and innovation," its Smart City Director Kevin Comstock said, but also has "much we can learn from the global perspective." Comstock said Chattanooga's entrepreneurial mindset has led to its success in smart city-related efforts.
The "pioneer cities" are expected to trial policies detailed in the roadmap and work with alliance partners to address gaps and improvements.
---
Contact: Brenda Ellis, 615 343-6314
brenda.ellis@vanderbilt.edu
Posted on Monday, November 23, 2020 in Abhishek Dubey, Chattanooga, CIVIC, G20 Global Smart Cities Alliance, ISIS, pioneer city, SCOPE, smart city initiatives, World Economic Forum,Alumni, Electrical Engineering and Computer Science, Home Features, News, News Sidebar