Vanderbilt School of Engineering's Lori Troxel awarded 2020 Chancellor's Cup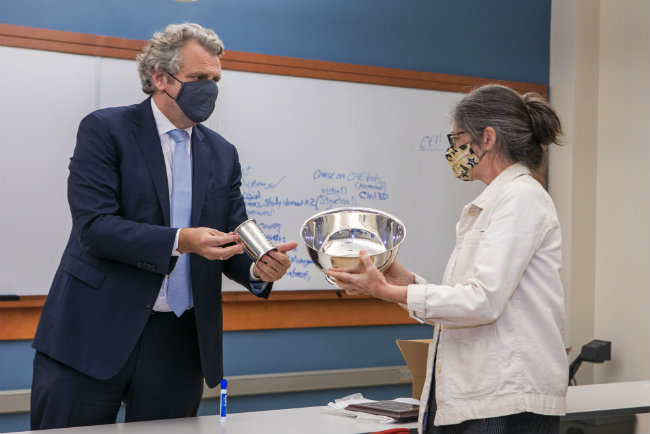 The School of Engineering's Lori Troxel, who is dedicated to empowering her students' career success while they contribute to the betterment of their communities, has been awarded the 2020 Chancellor's Cup by Chancellor Daniel Diermeier.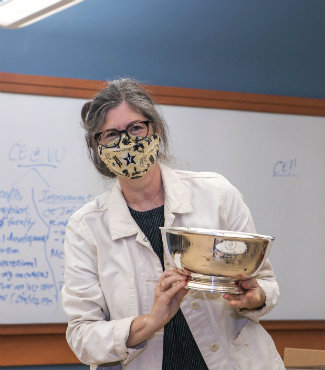 Troxel, professor of the practice of civil and environmental engineering, was completely surprised when Diermeier visited her Civil Engineering Design I class in Featheringill Hall for the award presentation on Nov. 9.
"Through the Chancellor's Cup, we proudly celebrate Professor Troxel's educational contributions outside the classroom and their impact on Vanderbilt's diverse learning environment," Diermeier said. "Many students have spoken passionately about her lasting influence on their paths to career and community leadership."
Diermeier noted that Troxel, whose academic interests include sustainable building design, has inspired students to pursue innovation in this critical field by leading an interdisciplinary study abroad course. Closer to home, she helped civil engineering students apply their learning outside of the classroom by building new benches for the Oasis Center, a local nonprofit that serves youth.
As the longtime faculty adviser for the Vanderbilt student chapter of the American Society of Civil Engineers, Troxel has received many national recognitions, along with her students, for the outstanding chapter. She also is a previous recipient of the Madison Sarratt Prize for Excellence in Undergraduate Teaching, INSIGHT into Diversity Inspiring Women in STEM Award, and the Award for Excellence in Teaching from the School of Engineering.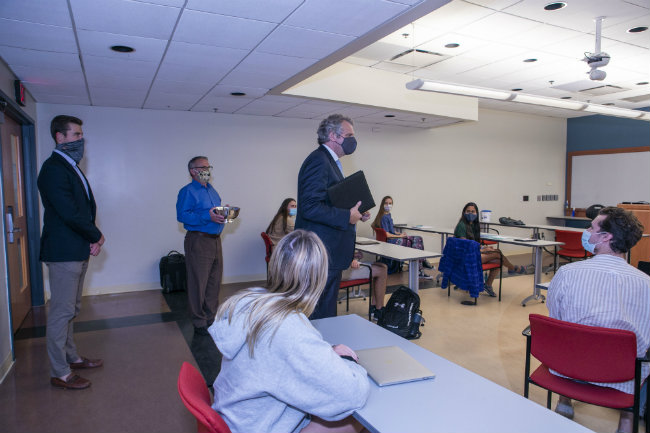 "Lori's passion for teaching and mentoring is a legacy that exemplifies her remarkable generosity. I have met a number of alumni who have shared with me how transformative her mentoring was for them," said Philippe Fauchet, Bruce and Bridgitt Evans Dean of Engineering. "Her commitment to students' success is notable, and she is deserving of this prestigious award that recognizes her dedication."
Established by the Nashville Vanderbilt Club in 1963, the Chancellor's Cup is awarded annually for the greatest contribution outside the classroom to the education of undergraduate students. Douglas Adams, Daniel F. Flowers Professor and Distinguished Professor of Civil and Environmental Engineering and department chair, and Dean Fauchet nominated Troxel for the award.
A Double 'Dore, Troxel earned a master of science and a doctorate in civil engineering from Vanderbilt, where she joined the faculty in 1995.
Accompanying Diermeier to the presentation were Adams, Fauchet and Kevin Ziomek, co-president of the Nashville Vanderbilt Club.
Troxel expressed deep appreciation for the award, which includes a cash prize of $2,500 contributed by the Nashville Vanderbilt alumni chapter, an engraved pewter cup as a permanent trophy, and one year's custody of the Tiffany and Co. silver bowl that bears the names of past Chancellor's Cup recipients.
By Ann Marie Deer Owens
---
Contact: Brenda Ellis
brenda.ellis@vanderbilt.edu
Posted on Wednesday, November 11, 2020 in Chancellor's Cup, civil engineering, Lori Troxel, mentoring,Alumni, Civil and Environmental Engineering, Home Features, News, News Sidebar