Alumna Carlotta Berry named Giacoletto Endowed Faculty Chair at Rose-Hulman
Carlotta Berry, who earned her doctorate in electrical engineering from Vanderbilt in 2003, has been appointed the Lawrence J. Giacoletto Endowed Chair in Electrical and Computer Engineering at Rose-Hulman Institute of Technology. Her three-year term begins Sept. 1, 2021. The Giacoletto endowed chair promotes professional activity for electrical and computer engineering faculty members.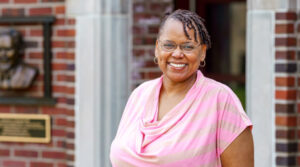 Berry, a professor of electrical and computer engineering, has brought her expertise in mobile robotics and enhanced human-robot interfaces into the classroom and has been committed to excellence and innovation in multidisciplinary robotics education, research, and outreach. She currently co-directs Rose-Hulman's multi-disciplinary robotics program, which provides students the opportunity to earn a minor in robotics to recognize their experience and knowledge of robotics-related materials.
The Giacoletto Chair will allow Berry to create an advanced mobile robotics course that will explore a different topic each year throughout the three-year curriculum. In addition to providing advanced training for those heading to industry, these courses will prepare students for research. A robot will be constructed and programmed using the Robotics Operating System to integrate human-robot interaction and then industrial robotics applications.
Berry also is planning to offer independent study and research opportunities for students interested in robotics and involve them in organizing and offering virtual workshops, including using SparkFun Inventor's kits to introduce adults to elements of computer coding and science, technology, engineering, and mathematics (STEM). She will expand her professional connections within Amazon and MathWorks and such organizations as Black In Robotics, Black Women in AI, Hadabot, and OpenRobotics to provide more workshops and outreach activities.
A member of the Rose-Hulman's faculty since 2006, Berry co-founded Rose-Hulman's Building Undergraduate Diversity (RoseBUD) program, which encourages students from marginalized and minoritized groups to pursue STEM careers; helped student scholars organize an annual SPARK! campus event that brings together high school students to work on hands-on projects; has been an organizer and judge for FIRST Robotics competitions; been featured in several webinars and online presentations about
women in robotics and engineering; and written opinion pieces that highlight national issues of Black professors in STEM.
During a sabbatical leave for the 2020-21 school year, Berry has helped form a network of about 400 Black engineering and computer science faculty in discussing their shared experiences with discrimination, marginalization and alienation within higher education, through the hashtag #BlackEngineeringFacultySpeak and a related video series, co-produced by Berry.
Her efforts have brought recognition among Women in Robotics' 30 Women in Robotics You Need to Know About – 2020, received FIRST Robotics program's Game Changer Award, and is the TechPoint Foundation for Youth's 2021 Bridge Builder Mira Award recipient. She also was selected one of INSIGHT Into Diversity's Inspiring Women in STEM, received a Leading Light Award from Indianapolis' Women & Hi Tech organization, and been featured in Reinvented magazine.