ASCE chapter wins nine awards in 2021 regional conference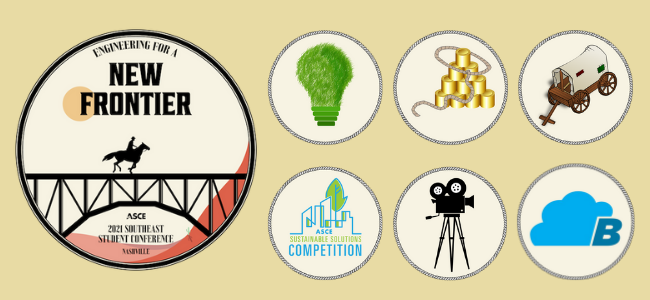 Vanderbilt civil engineering undergraduates reimagined infrastructure of a future megacity to support vertical gardens as an answer to food shortages. They devised ways to make in-person conferences more sustainable. In a timed transportation engineering challenge, they tasks such as documenting traffic light signal timing and redesigning an existing street for safer pedestrian use.
Those were among the competitions in the American Society of Civil Engineering 2021 Southeast Student Conference on March 25-27. Vanderbilt and Lipscomb universities "hosted" the event, which involved more than 400 students from about 20 universities. Though planning for an in-person conference in Nashville began in 2019, student organizers last fall decided to move it online.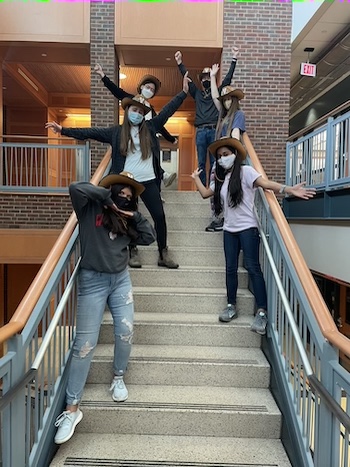 The ASCE Vanderbilt chapter placed third in overall conference rankings and also won top awards in eight categories: 1st Place, New Town Road and the Concrete Canoe John Craig Legacy Video; 2nd Place, Blue Sky Innovation (megacities), Scholarly Screenings, Plan Reading and Can Rodeo; and Third Place, Sustainable Solutions and Sustainable Conference.
Engineering for a New Frontier, the conference theme, carried throughout event names and contest descriptions. Scholarly Screenings involved creating an instructional video on engineering software. Can Rodeo was a service event that required students to build a tower of canned food live online in 10 minutes. Teams were judged on speed, aesthetics and number of cans. The Vanderbilt team used 146 cans, and all the food was donated to the LIttle Pantry that Could. Teams competing in other cities donated to their local food pantries.
New Town Road required teams of five students to tackle three tasks an hour for three hours on Saturday, March 27.
Daniel Shin, team captain and a senior, expected a "pretty relaxed" three-hour event. It was not.
"Even from the first hour it was insane," he said. "It really was a sprint all the way through."
The team met weekly all semester, and though some of the contest tasks could be anticipated broadly, such as writing an essay that applies ethical dilemmas to autonomous vehicles. The weekly meetings greatly helped with team members' abilities to communicate in a crunch, Shin said.
The Blue Sky Innovation challenge used the ASCE Future World Vision as the contest's technical base. Teams had to come up with solutions for one of two potential environments of the future–a "Mega City" with more than 50 million people or a Floating City.
The Vandy team chose the former, using a future New York City where advanced transportation options left roads and other infrastructure unused. Their plan repurposed roads for vertical gardens and subway stations for controlled environment agriculture.
"We wanted to focus on antiquated infrastructure," said Alyssa Kerscher, team captain.
For Kerscher, a sophomore, the challenge clarified a potential career direction.
"I really have a newfound interest in urban planning," she said. "Looking at the projections for these cities, the timelines, there are very real issues we need to tackle."
Putting on a big conference, virtual or otherwise, is a huge undertaking, and student organizers called out Lexi Revis, a senior civil engineering student and conference planning chair, Lori Troxel, professor of the practice of civil and environmental engineering and ASCE chapter adviser; and Charity Backs, department coordinator, for each spending hundreds of hours to make it happen.
In addition to Revis, the Conference Planning Committee included students Matt Sato, Nisha Montiero, Sarah Politiski, Sofia Ramirez Starkey, Kristi Maisha, Tonio Reid and Kailey Newcome.
It was, Shin said, gratifying to see all the teams put in such hard work under such different circumstances.
"It has never been virtual before," he said of the ASCE student conference. "With all the contests everyone did their best to make it happen."