BME Professor Matthew Walker III was biomedical design leader
Matthew Walker III, professor of the practice of biomedical engineering and associate professor of radiology and radiological sciences, died April 24, 2021, at his home.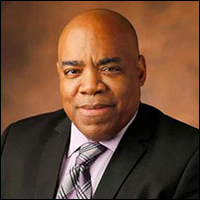 Walker, 56, designed an innovative biomedical engineering design curriculum that leveraged connections between the Vanderbilt School of Engineering, the medical school and the biotechnology community. He served as the biomedical engineering department's immersion coordinator, guiding undergraduate students through their immersion plans and capstone project experiences.
Updated: Watch a video of the May 14 Vanderbilt University and Vanderbilt University Medical Center Memorial Service.
"Dr. Walker cared deeply about his students, and his innovations made senior design and Design Day into something great. To lose him during his favorite week of the year is heartbreaking," said Michael King, J. Lawrence Wilson Professor of Engineering and chair of the Department of Biomedical Engineering. "A decade of Vanderbilt graduates benefitted from the knowledge and experience he brought from his time in the pharmaceutical industry. Matthew was a beloved educator and colleague, and we already miss his smooth baritone voice and gregarious wit."
Walker also served as associate director of Vanderbilt's Medical Innovators Development Program, which trains candidates with doctorates in engineering and applied sciences through a four-year, innovation-centered MD curriculum. He co-created the Engineering Grand Rounds Program that closes the gap between industry and academic models of biomedical innovation.
"One of Matthew's greatest gifts was his love of mentoring and teaching, especially evident in his dedication as advisor to students engaged in biomedical engineering design projects. He brought to the classroom years of corporate experience in the biotech industry that enriched his students' learning," said Philippe Fauchet, Bruce and Bridgitt Evans Dean of Engineering. "Matthew encouraged students to consider their work more than a class project—to think about taking it to market to solve real-world problems."
Walker joined the Vanderbilt engineering faculty in 2011. Prior to Vanderbilt, he worked for Merck Pharmaceuticals for 10 years and led cardiovascular ultrasound imaging that led him to co-develop three blockbuster drugs, Vytorin, Januvia and Candesarten. While at Merck, he also led the novel technologies adoption team. He was also the founder of the Association of Underrepresented Minority Fellows. He was one of 12 in the nation in the Merck Fellowship Program.
"Matthew had an amazing career at Merck, but we are fortunate that he was ready to come home to Nashville—where his family is deeply rooted—and share with our students the many lessons he had learned about the design process," said Dr. André Churchwell, vice chancellor for equity, diversity and inclusion and chief diversity officer.
Churchwell had been friends with Walker since the late 1980s, when Walker considered going to Emory University Medical School, where Churchwell was on the faculty. "Matthew opted instead for a Ph.D. to focus on biomedical research, and he was a genius at turning ideas into a formal design process—ultimately solving complex challenges in health care. This is a tremendous loss for Vanderbilt," Churchwell said.
Walker was a mechanical-biomedical engineer with NASA-Houston prior to receiving his doctorate in molecular physiology and biophysics in 1999 from Tulane University. He completed his training as a postdoctoral scholar in the Harvard-MIT Division of Health Sciences and Technology in 2003.
Walker's research included unveiling systems-level orthogonal biomarkers at the structure/function interface of disease using novel 2D-3D-4D-imaging. Walker was elected into the 2020 class of the American Institute for Medical and Biological Engineering's (AIMBE) College of Fellows. Walker was a faculty member of Robert Wood Johnson Health Policy Center of the Vanderbilt-Meharry Medical School Alliance. He was a coauthor of a trans-institutional grant that focuses on integrating social and innovation activism.
Walker served on the Board of Directors of the Matthew Walker Comprehensive Health Center, which was started by his grandfather, Dr. Matthew Walker Sr., in 1968, and created particularly for the poor and underserved. Matthew Walker Sr. was a physician and surgeon, one of the first African Americans to become a Fellow of the American College of Surgeons, with a long and illustrious medical career at the Meharry Medical College in Nashville.
Walker also has served on the Boston Symphony Orchestra Board, Merck Fellow's Board, the Board of Oberon Theater Company in New York City, and others.
He is survived by his wife, Anna, and son, Matthew Walker IV.
Contact: Brenda Ellis, 615 343-6314
brenda.ellis@vanderbilt.edu
Posted on Tuesday, April 27, 2021 in biomedical design, biomedical engineering, Engineering Grand Rounds, immersion, Matthew Walker III, Medical Innovators Development Program,Biomedical Engineering, News, News Sidebar