ChBE alumna honored with major Department of Energy award
Krista Walton, PhD'05, has received a 2020 Ernest Orlando Lawrence Award in honor of her contributions to the fields of atomic, molecular and chemical sciences.
Walton is the associate dean for Research and Innovation in the College of Engineering at Georgia Tech. She is considered a pioneer in her field, which involves interdisciplinary research that advances separation science.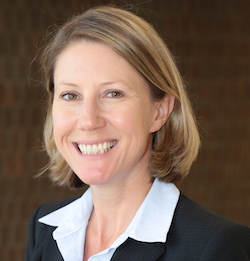 The Lawrence Award recognizes mid-career scientists and engineers who have advanced research and discovery in a range of areas central to the mission of the U.S. Department of Energy. The agency makes eight awards each year; the 2020 recipients were honored during a virtual ceremony in January.
Her research program focuses on the design, synthesis, and characterization of functional porous materials for use in adsorption applications including carbon dioxide capture and air purification.
"When my group and I began working on understanding the chemical stability of porous metal-organic frameworks (MOFs) over a decade ago, I hoped that our conclusions would have important implications in separation science," said Walton, professor and Robert "Bud" Moeller Faculty Fellow in the School of Chemical and Biomolecular Engineering. "Since that first project, this research topic grew to become a major focus area, not only in my group, but also in the larger porous materials community."
Her work is at the intersection of molecular modeling, chemistry and chemical engineering. She has identified physical and chemical factors driving water stability of sorbents, especially MOFs), and the impact of defects and complex mixtures on their chemical stability.
"I am so grateful to the Department of Energy for supporting my work over the past 10+ years, and this is an immeasurable honor," Walton said.
She has published more than 80 peer-reviewed articles and presented dozens of plenary lectures and invited seminars. Prior awards include the Presidential Early Career Award for Scientists and Engineers in 2008. While at Vanderbilt, Duncan studied with M. Douglas LeVan, J. Lawrence Wilson Chair, Emeritus; and professor of chemical and biomolecular engineering, emeritus.