Class of 2021: Computer science student helps strengthen nonprofits through infrastructure software

By Brenda Ellis
When other kids were playing video games, James Raubenheimer was building them. Later, as a youngster, a game development book inspired him to edit games he'd already built. "It was insanely great. I even got one on the App Store."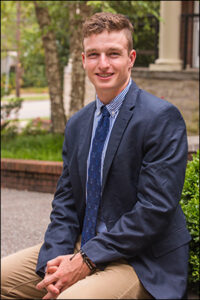 James is graduating with a bachelor's degree in computer science and mathematics and a master's degree in computer science and working on his second startup. His first, Change++, a student organization he co-founded, offers free software development services for nonprofits.
While leading C++, James was contacted by entrepreneur Hubert Ma, BE'99, who connected the group with Chief Dave Winnacker of the Moraga-Orinda Fire District in California. James built the prototype of an initial app that allows Winnacker's fire department to access web-enabled sprinkler systems throughout Moraga and Orinda.
The app allows the fire chief to turn a home's sprinkler system on or off with the swipe of a finger. The intent is to use homeowners' sprinkler systems to help fight wildfires. At least 18 homes have opted in. Winnacker wants other fire chiefs across California to have this app in their tool kit. A story about the app recently aired on San Francisco's KNTV.
Other C++ projects include Vanderbilt Black and Latinx Alumni directories, a climate change education platform called CarbonXP, and The Game of Rent-Understanding Affordable Housing. James says it was a trip to the Galapagos as an Eagle Scout to catch, tag and track sea turtles on San Cristobal and Floreana islands that inspired him to help nonprofits create infrastructure software.
His plan after Commencement is to continue working on WhatNxt with some Vanderbilt students and alumni. WhatNxt is a social app to help travelers plan organized itineraries using their friends' experiences to avoid tourist traps and get the most out of every trip. "Our goal is to make incredible adventures easily accessible for everyone by democratizing the world's experiences."

Raubenheimer, a Vanderbilt Ingram Scholar, spent four months in Ghana for his 2018 Ingram summer service project. He taught coding to 40 teachers in the Kumasi region, mentored 30 women with the Unlocking Women and Technology Program in application development over the course of 10 weeks, and built two new websites for an innovation hub. For James, it was a return to the African continent. "My mother is from South Africa and my father is from Zimbabwe. We moved to the states when I was 6 for my father's work as project management consultant."
While an intern on Etsy's Shipping Carriers team last summer, he spearheaded an initiative to build an engine to allow rapid changes to carrier shipping rates and worked on efforts to onboard new carriers and deploy shipping incentives. As a summer intern at Lockheed Martin in 2019, he developed technology for mission-critical systems in Rotary Missions Systems under a secret security clearance.
"Vanderbilt offers a flexible CS program that allows one to really diversify their interests. I was able to study CS and applied math with an engineering management minor while pursuing a graduate degree," he said. "I chose to work toward a Master's, less so for the accreditation but more so to work on projects in class with my peers and some of the awesome Vanderbilt professors I had for entry level courses. I still talk about the freshman seminar I took on Moore's Law and the Engineering Economy. During the course, Professor Tim Holman gave a series of guest lectures about the future of technology. His passion and knowledge of the subject is inspiring to say the least."
Raubenheimer says the culture among CS students and the broader Vanderbilt student body is a culture of community. "Wherever Vanderbilt students find community, they can expect passionate individuals from a variety of backgrounds excited by the prospect of collaboration as opposed to competition." Studying a technical field at a strong liberal arts college with a culture of innovation was his motivation for attending Vanderbilt. "I have been able to take classes in drawing and classical guitar as well as financial mathematics and web development from renowned professors," he said.
"Vanderbilt allows students to stand at the crossroads of science and the arts."
---
Contact: Brenda Ellis, 615 343-6314
brenda.ellis@vanderbilt.edu
Posted on Thursday, May 13, 2021 in 2021 graduate profile, Change++, computer science, Ingram Scholar, James Raubenheimer, nonprofit apps,Electrical Engineering and Computer Science, Home Features, News, News Sidebar