Computer engineering alum was entrepreneur, Vanderbilt supporter
Allen X. Romero, BE'99, an entrepreneur and consultant, died May 16, 2021, as a result of a hit-and-run accident in Great Falls, Virginia.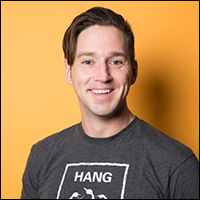 Romero, 43, of McLean, Virginia, was the founder of Hang Local Labs, Inc. in 2011, a mission-based U.S. company engaged in the research, design, development, marketing and sales of the Hang Local Friends App, the streetwear brand, and the production of multimedia content and services. The app enables friends in local communities to meet.
In his six-year Google career, Romero was part of the team that launched the company's multi-billion-dollar product AdSense Online. He was recognized with both a Google Luminary award and a Google Founders' award for his contributions to operationally scale and grow the AdSense product. As a consultant, Romero offered engineering and operational services to businesses and to friends seeking technical guidance.
Romero earned a bachelor of engineering degree in computer engineering with a minor in mathematics. At Vanderbilt, he was a member of the men's lacrosse team and Phi Kappa Psi fraternity. Romero was active in the San Francisco alumni chapter, serving five years on the chapter's leadership team, and as a member of the volunteer leadership team for the 2019 Vanderbilt reunion.
He is survived by his father and four brothers.
Contact: Brenda Ellis, 615 343-6314
brenda.ellis@vanderbilt.edu