Data Science Institute hosts AI for conservation expert in March 19 virtual event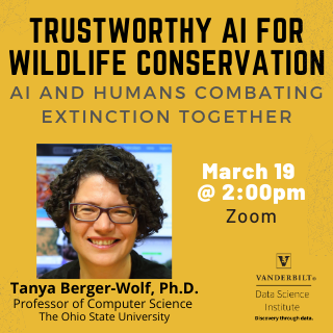 A virtual discussion, "Trustworthy AI for Wildlife Conservation: AI and Humans Combating Extinction Together," will take place on March 19 at 2 p.m. CT. Registration is required. The discussion is hosted by the Vanderbilt Data Science Institute.
Artificial intelligence is increasingly the foundation of decisions big and small, affecting the lives of individuals and the well-being of our planet. Tanya Berger-Wolf, professor of computer science engineering, electrical and computer engineering, and evolution, ecology and organismal biology at Ohio State University, will share how data-driven, AI-enabled decision processes can be deployed in the context of conservation. She will present an example of how such processes become trustworthy by opening opportunities for participation, supporting community-building, addressing inherent biases and providing transparent performance measures.
As a computational ecologist, Berger-Wolf's research is at the unique intersection of computer science, wildlife biology and social sciences. She creates computational solutions to address questions such as how environmental factors affect the behavior of social animals, including humans.
Berger-Wolf is the director of the Translational Data Analytics Institute at OSU and director and co-founder of Wild Me, a tech-for-conservation software nonprofit that brings together computer vision, crowdsourcing and conservation. Its key project Wildbook enabled the first-ever full species census of the endangered Grevy's zebra through photographs taken by ordinary citizens in Kenya. The resulting numbers are now the official species census used by IUCN Red List. Wildbook also includes whales, sharks, giraffes and many more species.
Berger-Wolf holds a Ph.D. in computer science from the University of Illinois at Urbana-Champaign. She has received numerous awards for her research and mentoring including University of Illinois Scholar, UIC Distinguished Researcher of the Year, National Science Foundation CAREER, Association for Women in Science Chicago Innovator and the UIC Mentor of the Year.
The Vanderbilt Data Science Institute accelerates data-driven research, promotes collaboration and trains future leaders. The institute brings together experts in data science methodologies with leaders in all academic disciplines to spark discoveries and to study the impact of big data on society. The institute is educating students in computational and statistical data science techniques to become future leaders in industry, government, academia and the nonprofit sector. This is the second discussion in the spring speaker series.
Contact: Brenda Ellis, 615 343-6314
brenda.ellis@vanderbilt.edu
Posted on Friday, March 12, 2021 in AI, AI for conservation, computer science, Vanderbilt Data Science Institute,Civil and Environmental Engineering, Electrical Engineering and Computer Science, Home Features, News, News Sidebar