Faculty Innovator: Michael Goldfarb shows that taking the first step is possible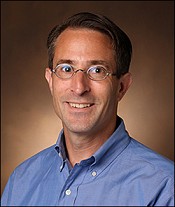 Using robotics to help individuals walk seemed like something out of a science fiction film until Michael Goldfarb and members of his lab made it a reality.
Goldfarb, co-director of the Center for Rehabilitation Engineering and Assistive Technology and H. Fort Flowers Professor of Mechanical Engineering, knew from a young age that he wanted to develop assistive products.
"I have been interested in developing assistive devices to improve mobility, function and quality of life for people with physical impairments since I was in high school," Goldfarb said. "This is what inspired me to pursue a career in engineering."
The device acts as an external skeleton, strapping tightly around the torso with supports extending down the legs and to the feet. Driven by computer-controlled electric motors, patients use the powered apparatus with walkers or forearm crutches to maintain their balance.
The Center for Technology Transfer and Commercialization licensed the powered lower-limb exoskeleton technology to Parker Hannifin, a motion and control technologies company. The company developed a commercial version, secured FDA approval and brought it to market in 2016. As a result of continued development, it has now grown into a series of products, including two exoskeleton systems and various control software packages to facilitate walking for people with spinal cord injury and stroke. Most recently, it has become a supplemental system that uses computer-controlled electrical stimulation of muscles in conjunction with the exoskeleton to help with walking.
"CTTC has the pleasure of working with wonderful researchers and amazing technologies, and Dr. Goldfarb and his colleagues are truly special. Having the opportunity to translate an invention such as this exoskeleton and getting to see the real impact it has had on the lives of individuals brings so much meaning to what we do," said Alan Bentley, assistant vice chancellor of CTTC. "Parker Hannifin has been the perfect partner for us in moving this innovation through the development and regulatory process and into the marketplace."
Goldfarb's invention allowed for U.S. National Guard Senior Airman Tyler Densford to throw the opening pitch at a Chicago Cubs baseball game in August 2021. While this very public demonstration was a testament to his work, Goldfarb says his most rewarding moments happen behind closed doors. "The large stage is nice, but frankly the small stage is more meaningful to me," Goldfarb said. "Among the most rewarding moments of my career are when I've been thanked in private for my contributions to developing the technology by people who use it."
By Marissa Shapiro
---
Contact: Brenda Ellis, 615 343-6314
brenda.ellis@vanderbilt.edu
Posted on Friday, September 24, 2021 in assistive devices, CREATE, CTTC, exoskeleton, Michael Goldfarb, Parker Hannifin,Home Features, Mechanical Engineering, News, News Sidebar