First online master's degree students to graduate May 15
The first cohort of students from two online engineering master's degree programs will graduate Saturday, May 15.
The M.Eng. students in engineering management and M.S. students in computer science come from a wide range of industries, including energy, manufacturing, pharmaceuticals, technology, aerospace and consulting. Ten and three master's degree students will graduate, respectively. Vanderbilt and 2U, Inc., a digital education company, partnered to offer the suite of advanced degrees in 2018. Enrollment began in 2019.
The online format helps fill a gap in mid-career workforce training and introduces Vanderbilt School of Engineering to reach new audiences. The programs have attracted students from across the U.S., and those enrolled average roughly eight years in their careers. That experience benefits their classmates, their employers and Vanderbilt, said Jules White, associate professor of computer science and associate dean for strategic learning programs.
"What has really been exciting is that these are mature professionals who are doing exciting things in their careers already," White said.
In all, engineering management has 80 students enrolled and computer science has 60, according to Ben Gartner of 2U. The programs expect to add at least 12 and 36 new students, respectively, when the new semester begins this month, he said.
Yiorgos Kostoulas, director of the general engineering division, said engineering management students have the drive to advance in their careers and want more technical knowledge, leadership training or both.
"That is exactly what they are getting," he said.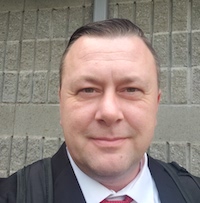 Joseph Solomon and Anton Schoene are among them. Solomon, who has a B.E. in mechanical engineering, works in RBC Bearings' aerospace group as a technical account manager. He wants to leverage his learned skills in technology forecasting and strategy to target new opportunities in aerospace manufacturing and design.
Schoene has been working as a product delivery lead for General Dynamics Missions Systems, having served as a missile technician on submarines for the U.S. Navy for 24 years until his retirement last year.
He hopes to join the company's engineering management program. "I really enjoyed all the professors and the material," said Schoene, who has a B.S. in Workforce Education from Southern Illinois University. "The real benefit from the program has been my fellow classmates."
In the CS master's program, Craig Topham is pursing a passion for technology that emerged as his career at Bank of America progressed. He started with the company in 2014 after receiving a bachelor's degree in criminal justice and is now product owner for Erica, the bank's chat assistant. He is among those graduating from the CS master's program Saturday and hopes to transition from project management to a more technical role as a software engineer, devOps specialist or data scientist.
"This program pushed me to learn how to take very complicated requirements and figure out how to solve the bigger solution incrementally," Topham said. "This has helped me see roadblocks further out and delegate efforts more effectively. It has made me look at problems in my career differently and provided me with an assurance that even the most difficult problems can be tackled."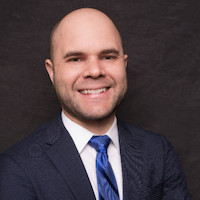 The M.S. in computer science program aims to equip students with core competencies in computer science and software engineering. The degree program focuses on a breadth of technical subject areas, including distributed and networked systems, embedded and hybrid systems, image processing and graphics, intelligent systems, software and systems engineering and theory.
The M.Eng. in engineering management is designed to prepare graduates to lead and manage the complex engineering function within a variety of businesses and organizations. Students are taught management of engineering and technical projects, technology strategy and forecasting, the critical elements of technology development and innovation and the implementation of these ideas in manufacturing, engineering and technology enterprises.
More information is available at Engineering@Vanderbilt.
Posted on Sunday, May 9, 2021 in 2U, engineering management, engineering master's degrees, Jules White, online courses, online Master's program, Yiorgos Kostoulas,Electrical Engineering and Computer Science, General Engineering, News, News Sidebar