Frist Center for Autism and Innovation receives 2021 Edward M. Kennedy Community Service Award
By Marissa Shapiro
The American Association for Access, Equity and Diversity announced that the Frist Center for Autism and Innovation will receive the Edward M. Kennedy Community Service Award at the association's annual awards ceremony in October.
The Edward M. Kennedy Award is presented to an individual or organization demonstrating outstanding community service. The award is named for the late Sen. Edward M. Kennedy (D-Mass.), who was a champion of equal opportunity and of the rights of individuals with disabilities. "We are delighted to honor the Frist Center for its contributions to innovative engineering research on the neuroscience related to autism and the opportunities created by a having a neurodiverse workforce," said Richard Anthony Baker, president of AAAED.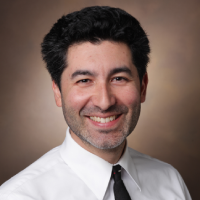 The Frist Center for Autism and Innovation at the School of Engineering brings engineers, business scholars and disabilities researchers together with experts in neuroscience and education to understand, maximize and promote neurodiverse talent. From a strengths-based—as opposed to deficit-based—understanding of autism and neurodiversity, the center sees opportunities for innovation in technology and in workplace practices.
"Receiving this Edward M. Kennedy Community Service Award from the American Association for Access Equity and Diversity—whose own mission includes promoting understanding and advocacy to enhance the tenets of access, inclusion and equality in employment, economic and educational opportunities—is a tremendous honor for the Frist Center for Autism and Innovation," said Keivan Stassun, Stevenson Professor of Physics and Astronomy and professor of computer science, and founding director of the Frist Center for Autism and Innovation. "It signifies a significant alignment of vision and mission of our organizations and serves as an important validation that the neurodiversity movement truly has arrived as one of the important axes of identity and inclusion."
"We are thrilled that the center is receiving this recognition," said Anita Jenious, director of the equal opportunity and access office. "Keivan has been a staunch supporter of equal employment opportunity/affirmative action and diversity since he first set foot on campus many years ago, and the center has flourished under his leadership.
Founded in 1974 as the American Association for Affirmative Action, AAAED is a national not-for-profit association of professionals working in the areas of equal opportunity, compliance and diversity. AAAED promotes understanding and advocacy of affirmative action and other equal opportunity laws. It is the longest-serving organization for the equal opportunity profession.
Previous award recipients
2020: Disability: IN
2019: Deb Dagit, president, Deb Dagit Diversity LLC; and BOSMA Enterprises, Navigating Blindness
2018: The Southern Poverty Law Center
2017: The Navajo Nation Human Rights Commission
2016: Wright State University
2015: Georgia State University
2014: The Honorable Kathleen Martinez, U.S. Department of Labor
---
Contact: Brenda Ellis, 615 343-6314
brenda.ellis@vanderbilt.edu
Posted on Wednesday, September 15, 2021 in American Association for Access, Edward M. Kennedy Community Service Award, Equity and Diversity, Frist Center for Autism and Innovation, Keivan Stassun, neurodiversity,Home Features, News, News Sidebar