Gift from engineering PhD alumnus funds new EECS graduate student awards
Starting this year, the Department of Electrical Engineering and Computer Science will award three best paper prizes and $5,000 each to the winning graduate students, thanks to a gift from a School of Engineering alumnus and his wife.
The awards program has been created by a gift from May Juan Chen, BA'68, and Chun Fu "CF" Chen, Ph.D.'68, of Akron, Ohio. CF Chen, who received his Vanderbilt Ph.D. in electrical engineering, was a professor at The University of Akron from 1968 until his retirement in 1994.
The C. F. Chen Best Paper Awards recognize top journal articles in which a graduate student is first author. The competition will be held annually and provides three $5,000 awards, one each in electrical engineering, computer science, and translational research.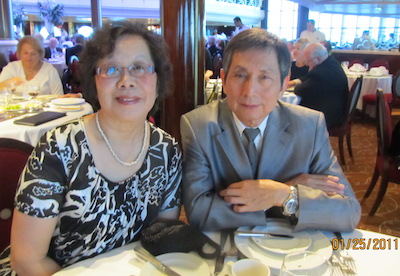 First authors must be Vanderbilt EECS graduate students, and the papers must be accepted or published in the prior calendar year. Nominations are made by faculty advisers, who should limit nominations to one or two papers of exceptional quality from their group each year.
Faculty members from outside the School of Engineering who advise EECS graduate students may nominate papers. The rules and nomination form are available on REDCap.
Nominations are due by February 28, and awards will be announced at the end of spring semester. The gift also includes $5,000 for a best senior design project among Department of Electrical Engineering and Computer Science teams.
During his tenure at UA, Chen established the digital electronics program. He also founded Quatech, Inc., a company specializing in designing data acquisition and data communication for PCs. The company grew at least 50% each year and counted among its clients Fortune 500 firms such as AT&T, IBM, Lockheed Aircraft as well as several national labs. The company was sold to a venture capital firm in 2000.
Chen has remained an active entrepreneur, having formed men's clothier Savile Lane with his daughter. The company specializes in affordable custom clothing using algorithms Chen developed to convert body measurements to the finished garment. The company now focuses on virtual tailoring using Zoom.
Chen and his wife, May Juan Chen, met while at Vanderbilt. They are active philanthropists in Akron and have funded a similar awards program at the UA College of Engineering; the student design center there is named in their honor as well. May Chen earned her psychology degree at Vanderbilt and a master's degree in marriage and family therapy from the University of Akron. She is a co-founder of ASIA, Asian Services in Action, which seeks to improve the quality of life for Asian Americans and Pacific Islanders in northeast Ohio.