Hornberger retires; working group to plan future of climate, environment and energy education, research and advocacy at Vanderbilt
By Jane Hirtle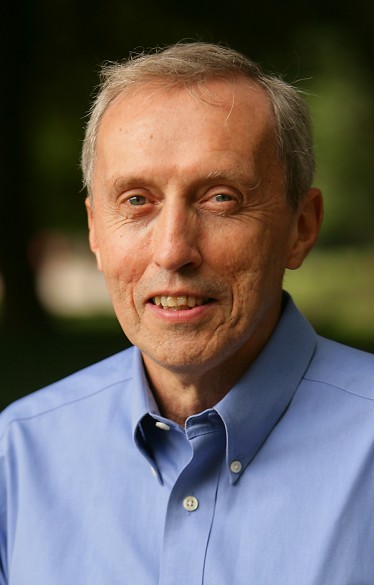 George Hornberger, Craig E. Philip Professor of Engineering and university distinguished professor of civil and environmental engineering and earth and environmental sciences, retired June 30 after decades of dedicated service and as director of the Vanderbilt Institute for Energy and the Environment. Hornberger was already an established leader in the fields of water resources and sustainability when he joined the Vanderbilt faculty in 2012.
"George has a national reputation as a member of both the National Academy of Engineering and the NSF Advisory Committee for Geosciences Directorate, but he is known best at Vanderbilt as a deeply respected and much-loved colleague and mentor to faculty and students alike," Vice Provost for Research Padma Raghavan said. "I am so grateful to George for his willingness to continue supporting current and future efforts in energy and the environment after his retirement, and to the community of energy- and environment-conscious experts he helped nurture through the VIEE who will carry on his legacy in the years to come."
When news of Hornberger's impending retirement became known earlier this year, a wave of students, faculty and alumni came forward to share messages of gratitude, well wishes and praise for the VIEE and its director. Many have spoken of the profound impact VIEE has had on their professional success, and they advocated for continued university engagement and community in these critical areas.
In preparation of Hornberger's retirement, the Office of the Provost launched a new planning and envisioning process to be led by Raghavan. In this process, the Climate, Environment and Energy Futures Working Group was formed to evaluate and plan for the future of energy, environment and climate research and advocacy at Vanderbilt. Craig Philip, research professor of civil and environmental engineering and director of the Vanderbilt Center for Transportation and Operational Resiliency, is chairing the working group.
Goals of the working group include examining current educational and interdisciplinary environmental and energy research, scholarship and policy studies at Vanderbilt and peer institutions. From this analysis, the working group will inform university leadership about options to enhance Vanderbilt's unique educational, community and disciplinary strengths that can advance solutions to critical challenges, especially considering the urgent and increasing need to address global climate change.
The working group is composed of faculty leaders who are highly active in the energy, environment and climate areas, ranging from experts in science and technology to economics and policy. In close collaboration with key stakeholders including students, alumni and university leadership, the working group will map the university's future trans-institutional strategy in these increasingly crucial areas.
Contact: Brenda Ellis, 615 343-6314
brenda.ellis@vanderbilt.edu
Posted on Wednesday, July 21, 2021 in Climate, Craig Philip, energy, environment and climate, Environment and Energy Futures Working Group, George Hornberger, Vanderbilt Institute for Energy and the Environment,Civil and Environmental Engineering, Home Features, News, News Sidebar