Class of 2021: From rockets to fighter jets, mechanical engineering major builds on big successes

by Brenda Ellis May. 3, 2021
Will Reisner enjoys reaching new heights. The mechanical engineering senior is the vehicle team lead on Vanderbilt's perennially top-ranked rocket team.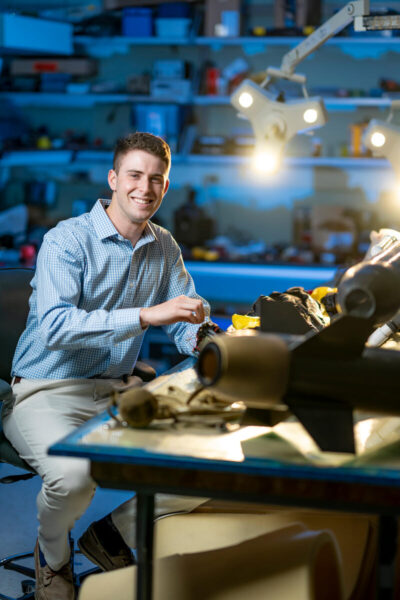 He's also a hiker and mountain biker who has summited seven Colorado mountain peaks over 14,000 feet. And in July, Reisner is joining Lockheed Martin Corp. in Fort Worth, Texas, as a weapons integration engineer working on the F-35 fighter jet. The F-35 climbs at 45,000 feet per minute.
The Highland Park, Illinois, native first visited Vanderbilt when he was a high school junior. The weather was less than ideal.
"Campus got 8 or 9 inches of snow overnight, and all my tours and shadowing opportunities were canceled. My dad and I walked to The Ingram Commons for lunch, and we sat at a table with some students. One of them was kind enough to walk me around campus and show me what it was like to be a Vanderbilt student. I had a fantastic time," he said. "If I had such a great time on the worst possible day, I decided this must be the place for me."
Building better machines
At Vanderbilt, Reisner gravitated toward mechanical engineering. "I love machines—cars, airplanes, bikes—you name it. Building things, taking others apart, figuring out how they work," he said, adding that he particularly likes the versatility of Vanderbilt's program. "It gives me the tools to explore and understand almost any other discipline of engineering."
Among Reisner's favorite student experiences have been as a member of the Vanderbilt Aerospace Design Laboratory rocket team and the Vanderbilt University Motorsports team, and as a teaching assistant in the School of Engineering's machine shop. His most memorable classes have been computational fluid dynamics with Associate Professor of Mechanical Engineering Haoxiang Luo, mechatronics with H. Fort Flowers Professor of Mechanical Engineering Michael Goldfarb, system dynamics with Associate Professor of the Practice of Mechanical Engineering Kenneth Frampton, and energetics laboratory with A.V. Anilkumar, professor of the practice of mechanical engineering and director of VADL.
Rocket team
As vehicle team lead and safety officer for VADL, Reisner is responsible for design, manufacture and testing of the Vanderbilt rocket that will compete in the 2021 NASA Student Launch, a competition that the rocket team has won an unprecedented seven times. The challenge is to build and fly a high-powered amateur rocket carrying a complex payload to 4,000 feet above the ground, descend, deploy the scientific or engineering payload—one that meets NASA's space exploration initiatives—and safely land.
"On the vehicle side, I'm involved with designing, fabricating and testing the rocket and integrating it with the payload," Reisner said. "As the safety officer, I maintain safety during team operations and lead the team in our failure modes and effects analysis." 
No matter how the rocket team fares in this year's competition, the experience will prove valuable as Reisner turns to a career focused on aerospace challenges. And those challenges no doubt will only continue pushing him to reach new heights. 

---
Contact: Brenda Ellis, 615 343-6314
brenda.ellis@vanderbilt.edu