Marine engineering leader, Vanderbilt alum elected to NAE
Christopher J. Wiernicki (BE'80) has been elected to the U.S. National Academy of Engineering for innovative leadership in the design, engineering, and operation of ships and offshore structures.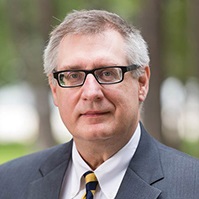 Wiernicki is chairman, president and CEO of ABS and chairman of the ABS Group of Companies, Inc. He previously served as chairman of the International Association of Classification Societies and held senior roles at ABS, including president and chief operating officer, chief technology officer and president and COO of ABS Europe Ltd.
Wiernicki is recognized internationally as a leader in naval architecture, marine engineering and risk management with outstanding contributions to the engineering and maritime professions.
"As an engineer leading a global organization committed to excellence in all aspects of marine and offshore operations, it is a tremendous and humbling honor to be recognized for innovation," said Wiernicki. "Engineering plays a pivotal role in the ABS mission to make the oceans safer and in the significant industry advances we have delivered."
Wiernicki holds a bachelor's degree in civil engineering from Vanderbilt, a master of science degree in structural engineering from George Washington University, where he was later elected to the George Washington University Engineering Hall of Fame, a master of science in ocean engineering from Massachusetts Institute of Technology, and honorary doctor of science degrees from Maine Maritime Academy and SUNY Maritime College.
In 2017, Wiernicki was inducted into the Vanderbilt School of Engineering Academy of Distinguished Alumni, honoring his leadership in marine engineering, his outstanding contributions to the engineering and maritime professions and service to the school. Also, in 2017 he received the Maritime Person of the Year Award from the Massachusetts Maritime Academy
Wiernicki is a fellow of the Society of Naval Architects and Marine Engineers. He was awarded the Vice Admiral Emory S. Land Medal in 2013 for outstanding accomplishment in the marine field and is a member of the International Maritime Hall of Fame Class of 2016. He lectures at the university level on topics ranging from leadership to technology and serves on the Board of Trustees for the Seamen's Church Institute as well as numerous university boards and advisory councils.
Election to the NAE is among the highest professional distinctions accorded to an engineer. Academy membership honors those who have made outstanding contributions to engineering research, practice, or education and to the pioneering of new and developing fields of technology, making major advancements in traditional fields of engineering, or developing/implementing innovative approaches to engineering education.
Election of new NAE members is the culmination of a yearlong process. The ballot is set in December and the final vote for membership occurs during January. Wiernicki will be formally inducted during the NAE's annual meeting on October 3, 2021.
Contact: Brenda Ellis, 615 343-6314
brenda.ellis@vanderbilt.edu
Posted on Thursday, February 11, 2021 in ABS, Academy of Distinguished Alumni, alumni, Christopher J. Wiernicki, civil engineering, marine engineering, NAE,Alumni, Civil and Environmental Engineering, Home Features, News, News Sidebar