Ndukaife, Wilson win a Chancellor's Award for Research at 2021 Fall Faculty Assembly
Justus Ndukaife and John Wilson are among five Vanderbilt professors who won a Chancellor's Award for Research at the 2021 Fall Faculty Assembly Aug. 26, 2021, where Chancellor Daniel Diermeier shared his priorities and aspirations for the new academic year and presented some of the university's highest honors. Engineering professors Ted Bapty, Akos Ledeczi, Sandra Rosenthal and Ronald Schrimpf were recognized for 25 years of service to the university.
The research award recognizes excellence in works published or presented in the last three calendar years. Honorees each receive $2,000 and an engraved julep cup.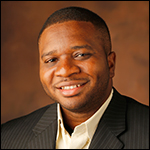 Ndukaife, assistant professor of electrical engineering, was recognized for his article "Stand-off trappings and manipulation of sub-10nm objects and biomolecules using opto-thermo-electrohydrodynamic tweezers," that appeared in Nature Nanotechnology in 2020. Optical tweezers use a tightly focused laser beam to trap particles and have emerged as a powerful tool in biological research providing the means to non-invasively manipulate microscopic objects such as biological cells.
Ndukaife and his team are now working to harness this technique for liquid biopsy of exosomes with the objective of facilitating non-invasive early detection of cancer. Other promising possibilities include detecting pathogens by trapping and analysing viruses, and studying proteins associated with neurogenerative diseases such as Alzheimer's. The technique could even aid the early detection of diseases since the tweezers can capture molecules that are only present at low concentrations.
Ndukaife also was selected as a global Rising Star of Light by the Nature family journal Light Science and Applications and was invited to present this research paper at the global iCANx talks. His presentation on optical tweezers was viewed by over 260,000 researchers worldwide that brought enhanced visibility to his research work and to Vanderbilt.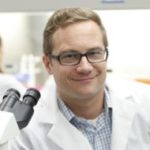 Wilson, associate professor of chemical and biomolecular engineering, was recognized for an article that reported research conducted with colleagues at Vanderbilt and other universities. Their article, "Endosomolytic polymersomes increase the activity of cyclic dinucleotide STING agonists to enhance cancer immunotherapy," appeared in Nature Nanotechnology in 2019.
Harnessing a patient's own immune system to eliminate tumors has transformed how cancer is treated, yet many patients do not respond as well as hoped. Specifically, the drug cGAMP cannot get into cells and it clears from the body very rapidly. This team engineered a "smart" polymer nanoparticle, a polymersome, to improve the delivery of cGAMP to cells. This technology increased cGAMP potency by multiple orders of magnitude.
This result was unprecedented and represented a major technological advancement. This article has had a significant impact on the broader research community at Vanderbilt. The research resulted in generation of new intellectual property and a recently issued patent. It has led to multiple industrial and academic collaborations, including several very successful partnerships with researchers in the Vanderbilt-Ingram Cancer Center focused on leveraging the technology to enhance immunotherapy outcomes across a wide of cancer types. The data and collaborations emerging from this work also have been critical to obtaining more than $12 million in research funding, including grants from the National Science Foundation, the National Cancer Institute, the Congressionally Directed Medical Research Program, Stand Up to Cancer, the Melanoma Research Alliance, and the Susan G. Komen Foundation.
For their year of service to Vanderbilt, Professors Ted Bapty, Akos Ledeczi, Sandra Rosenthal and Ronald Schrimpf each received a chair with bearing brass plates with their name and the Vanderbilt logo.
Ted Bapty is a research associate professor of electrical engineering and senior research scientist at Vanderbilt's Institute for Software Integrated Systems.
Akos Ledeczi is a professor of computer science and electrical and computer engineering. He also is director of graduate studies in computer engineering.
Sandra Rosenthal is the Jack and Pamela Egan Professor of Chemistry, professor of chemistry, professor of chemical and biomolecular engineering, and professor of materials science and engineering.
Ronald Schrimpf is the Orrin H. Ingram Professor of Engineering, a professor of electrical engineering and director of Vanderbilt's Institute for Space and Defense Electronics.
Contact: Brenda Ellis, 615 343-6314
brenda.ellis@vanderbilt.edu
Posted on Thursday, August 26, 2021 in 2021 Fall Faculty Assembly, 25-year chair, Akos Ledeczi, Chancellor's Award for Research, John Wilson, Justus Ndukaife, Ronald Schrimpf, Ted Bapty,Chemical and Biomolecular Engineering, Computer Science, Electrical and Computer Engineering, Home Features, News, News Sidebar