New $2 million NIH grant advances less invasive procedure for TLE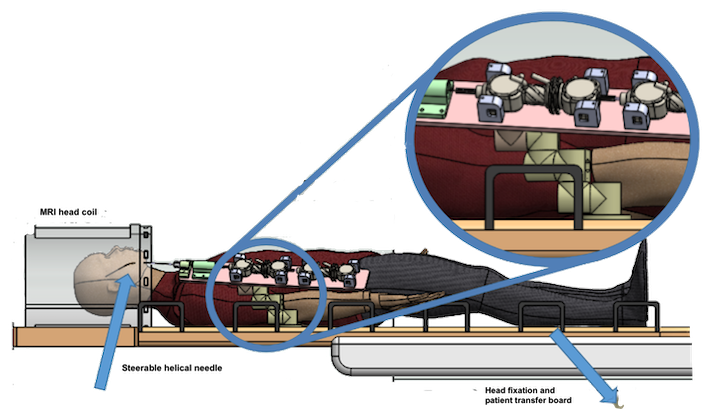 A Vanderbilt research team has received a $2 million National Institutes of Health grant to further develop a needle-size robotic surgery system with real-time MRI guidance for drug resistant temporal lobe epilepsy (TLE).
Such a procedure has the potential to reduce or eliminate seizures using a minimally invasive approach over the current standard of care, open brain surgery. A craniotomy for TLE has a seizure-freedom rate of 70-80 percent, but perceived risks make many patients and referring physicians hesitant.
"Our goal is to develop a treatment approach that will prove effective at stopping seizures while minimizing discomfort and recovery time," said Dario Englot, VUMC assistant professor of neurological surgery and electrical engineering.
The principal investigators on the grant are Eric Barth, associate professor of mechanical engineering, and Robert Webster III, the Richard A. Schroeder Professor of Mechanical Engineering. The team also includes William Grissom, associate professor of biomedical engineering, and three experts in neurological surgery—Englot, Joseph Neimat and Robert Naftel, current or former neurosurgery faculty at VUMC.
Barth, Webster, Grissom, and Englot also are faculty affiliates with the Vanderbilt Institute for Surgery and Engineering.
The eventual goal is to provide a minimally invasive way to achieve the benefits of surgery but use a steerable needle delivered through the patient's cheek, with thermal therapy to the brain.
The grant is from the National Institute of Neurological Disorders and Stroke, one of about 20 specialized institutes within NIH. Research components include demonstrating that the system accurately targets a defined amount of tissue, monitors the temperature, and treats the proper volume of tissue. The project builds upon an earlier grant where the team validated the idea of helical ablation needles and safe pneumatic robots and integrates those subsystems with MRI guidance.
"This will pave the way for clinical translation of this technology in collaboration with industry partners, bringing a potentially curative treatment for epilepsy to many more patients," Barth said.
Posted on Tuesday, February 16, 2021 in epilepsy, Eric Barth, needlescopic surgery, NIH, Robert J. Webster, steerable needles,Biomedical Engineering, Electrical Engineering and Computer Science, Home Features, Mechanical Engineering, News, News Sidebar, Research