Tao receives support of selective SPIE gift
BIOMEDICAL IMAGING and BIOPHOTONICS
Assistant Professor of Biomedical Engineering Yuankai "Kenny" Tao is the first School of Engineering faculty member to be supported by an endowment gift from SPIE, the international society for optics and photonics.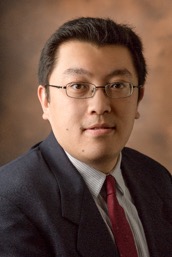 This is the eighth major SPIE gift to universities and institutes as part of the Society's ongoing program to support the expansion of optical engineering teaching and research. Vanderbilt matched SPIE's endowment contribution of $500,000.
"We have one of the few biophotonics centers in the country, and a critical mass of faculty spanning imaging, sensing, laser-tissue interactions, materials, and nanophotonics. This fellowship will be a vital resource as we continue to recruit best and brightest trainees and researchers in optics and photonics to Vanderbilt," Tao said.
His lab develops novel optical imaging systems for clinical diagnostics and therapeutic monitoring in ophthalmology, gastroenterology, and oncology, and most of his research involves multidisciplinary collaborations between investigators in engineering, basic sciences, and medicine.
Prior to joining the faculty at Vanderbilt, Tao was an assistant professor in the Department of Ophthalmic Research at Cleveland Clinic and director of the Diagnostic Imaging and Biophotonics Laboratory at Cole Eye Institute.