Vanderbilt engineering school, U.S. Army Corps of Engineers' R&D Center enter educational partnership to enhance collaborations
The Vanderbilt University School of Engineering and the U.S. Army Engineer Research and Development Center have entered an educational partnership agreement that will link top-tier experts from Vanderbilt and the U.S. Army Corps of Engineers.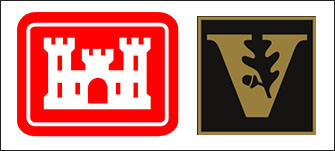 The purpose of the ERDC's Educational Partnership Agreement is to encourage education in science, mathematics, engineering, and professional areas of interest to the mutual benefit of ERDC and the School of Engineering. The EPA provides a framework for cooperative educational collaborations.
Of particular interest are graduate degree programs including computer science, environmental engineering, risk, reliability, and resilience as well as non-degree workforce training programs.
USACE employees will be able to take Vanderbilt engineering courses through the ERDC Graduate Institute course offerings. The School of Engineering will offer a series of informational webinars to ERDC employees in April.
ERDC's mission is to help solve the nation's most challenging problems in civil and military engineering, geospatial sciences, water resources, and environmental sciences for the Army, Department of Defense, civilian agencies, and the public good. "The Educational Partnership Agreement with Vanderbilt University School of Engineering provides top-tier training to our workforce and a strong partnership between expert engineers and scientists to solve our nation's challenges," said ERDC Director David Pittman.
"Bringing these two institutions together to meet crucial societal challenges is mutually beneficial," said Bruce and Bridgitt Evan Dean Philippe Fauchet. "Research universities and the military working hand-in-hand can be transformative for our nation."
Contact: Brenda Ellis, 615 343-6314
brenda.ellis@vanderbilt.edu
Posted on Tuesday, March 30, 2021 in computer science, environmental engineering, ERDC Educational Partnership Agreement, Reliability and Resilience, risk, U.S. Army Corps of Engineers, U.S. Army Engineer Research and Development Center, Vanderbilt School of Engineering, workforce development,Civil and Environmental Engineering, Electrical Engineering and Computer Science, Home Features, News, News Sidebar