Vanderbilt engineers' Science paper reviews scope of atomically thin membranes for subatomic separations
A paper by Vanderbilt engineers that explores the scope to scale up the sizes of atomically thin membranes and their potential use in applications relating to energy, microscopy, and electronics is published in the journal Science.
Authors Piran R. Kidambi, assistant professor of chemical and biomolecular engineering, Pavan Chaturvedi, postdoctoral scholar in the Department of Chemical and Biomolecular Engineering, and Nicole Moehring, a doctoral student in Interdisciplinary Material Science, reviewed advances in using atomically thin two-dimensional materials such as graphene or hexagonal boron nitride for the separation of subatomic species, including electrons, hydrogen isotopes, and gases.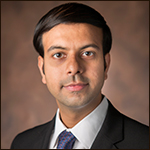 Kidambi said these membranes present potential to separate subatomic species and are used on a range of scales from benchtop experiments to practical energy and microscopy applications. "The paper discusses past progress and future trends and explores areas where breakthroughs are likely to occur."
The paper—Subatomic species transport through atomically thin membranes: Present and future applications—published in November brings together multiple fields and shows common threads across them, related to subatomic species transport. This includes areas of energy, metrology, or measurement science, and fundamental science.
The pristine lattice of monolayer graphene, a honeycomb mesh of carbon atoms, and hexagonal boron nitride, h-BN, honeycomb mesh of alternating B and N atoms, is impermeable to small atoms such as helium at room temperature but allows for energy-dependent transmission of electrons and electric-field-driven transport of protons and deuterons.
"The transport of subatomic species through ultrathin membranes offers potential for transformative advances in energy conversion/storage, in addition to moving conventional electron microscopy tools to realms beyond what they were traditionally capable of," said Kidambi.
"The discovery of new materials has often enabled new applications," he said. "In the case of atomically thin 2D materials, early research focused on electronics but we think they will offer transformative advances as membranes for energy, separation processes and microscopy and we hope to bring together the community of researchers working in this area in a symposium at the 2022 MRS Spring Meeting. It is exciting times to work in this research area."
Funding sources include NSF CAREER and ECS Toyota Young Investigator awards.
Contact: Brenda Ellis, 615 343-6314
brenda.ellis@vanderbilt.edu
Posted on Wednesday, December 1, 2021 in atomically thin membranes, energy conversion, graphene mesh, Nicole Moehring, Pavan Chaturvedi, Piran Kidambi, Science,Chemical and Biomolecular Engineering, Home Features, News, News Sidebar, Research