Vanderbilt researchers join exclusive global effort to speed breakthrough in depression treatment
Project to build end-to-end model of depression capturing biological factors, quantifiable biometrics and behavioral measures
Vanderbilt researchers have been selected by Wellcome Leap as one of 12 global teams to develop an integrated model of depression and to identify biologically effective treatment in an accelerated timeframe.
A key goal is rapid, targeted intervention and selection of a depression treatment with the highest likelihood of working for an individual patient based on their specific biology, through the development of an explanatory and predictive end-to-end model.
U.S. nonprofit Wellcome Leap funds bold programs that aim to speed breakthroughs that benefit global human health in five to 10 years. Its programs assemble multidisciplinary global teams from universities, companies and nonprofits to solve problems that they cannot solve alone and to accelerate research commercialization.
The burden of depression is associated with disproportionate health care costs and unemployment, suggesting potentially large economic and societal gains with effective management. Wellcome Leap, founded in 2020 with a $300 million investment by UK's $39.5 billion Wellcome Trust, recently launched a $50 million program—Multi-Channel Psych: Revealing Mechanisms of Anhedonia—and called for proposals.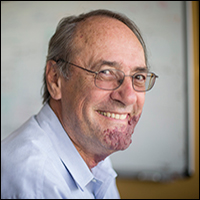 Janos Sztipanovits, E. Bronson Ingram Distinguished Professor of Engineering and director of the Institute for Software Integrated Systems at Vanderbilt University, is principal investigator on the team's Modeling and Model Integration project.
The Vanderbilt team will build and evolve the model integration infrastructure for the Multi-Channel Psych program. The outcome of the project will be an integration platform for End-to-end Modeling to Reduce Anhedonic Depression (EMRAD).
Co-PIs are Sandeep Neema, professor of computer science and electrical and computer engineering; Xenofon Koutsoukos, professor of computer science, electrical and computer engineering, and chair of the Department of Computer Science; and Colin Walsh, associate professor in the departments of biomedical informatics, medicine, and psychiatry at Vanderbilt University Medical Center.
Anhedonia, reduced motivation or ability to experience pleasure, is considered a central feature of major depressive disorder (MDD). In a single year, 264 million people suffer from depression and 800,000 lives are lost to suicide. In the United States, almost 7% of adults experience an episode of depression each year, costing an estimated $210.5 billion due to the combination of treatment costs and productivity loss, Wellcome Leap reported.
In a biological modeling process whose goal is the incremental conversion of observations to knowledge, models will evolve by formulating alternative biology-based model structures and evaluating them with new observations, Sztipanovits said.
"The alternative models that reflect different biological hypotheses may have different knowledge gaps that will impact model selection decisions. We believe a promising approach to address model selection is a biology-guided learning process that represents existing but partial knowledge symbolically and complements it with machine learning-based components such as deep neural networks for completing the alternative models," said Sztipanovits.
The Vanderbilt engineers have two decades of research experience in foundations of model-based design, design automation, AI assisted design processes and simulation of cyber-physical and human-cyber-physical systems. "We will extend our DeepForge design studio with new components for supporting Biology-Guided Learning in the modeling process and make it available for the program," said Sztipanovits. DeepForge is a development environment for deep learning designed for simplicity, collaboration and reproducibility of experiments.
To accelerate the creation of new models spanning different science disciplines, Vanderbilt will incorporate state-of-the-art data platforms from another society-scale biology challenge: predicting pandemics.
"Our team is also an Early Access Partner for Microsoft's Premonition technology, which is an industrial platform for predicting pandemics by integrating diverse biological data sets and performing cloud-scale predictive analytics and machine learning," said Sztipanovits. "Through this partnership, Microsoft Premonition will provide open-source data platforms that have already been battle tested on multi-omics and environmental data."
Neema said the team will leverage both data-driven and knowledge-centric approaches to build new hybrid neuro-symbolic models that provide causative and predictive understanding of complex biological systems. "In the last decade, innovations in machine learning techniques, combined with the availability of voluminous omics data has fueled a leap forward in developing highly sophisticated predictive models based on neural networks," he said.
Koutsoukos said, "A central effort in the project is to capture clinical and informatics knowledge integrating models into an end-to-end model architecture driven by specific-use cases. Model composition and integration will represent the relationships and constraints among models and will enable modeling analytics and decision-support workflows defined by clinicians."
"The clinical implications of this multidisciplinary, global collaboration are vast. Currently, teams around the world will develop novel models of biologic understanding of depression, but barriers like data siloes and complex, diverse model requirements prevent ready dissemination, portability, transparency, and reproducibility of these models in current state," said Walsh. "This ambitious collaborative will help us develop and test novel approaches to modeling depression, and we have the rare opportunity to test them in real-world clinical settings thanks to our cross-cutting partnership."
Wellcome Leap's intent is to have the same impact on the survivability of severe, treatment-resistant depression that advances in diagnostics and treatment have had on the survivability of breast cancer.
"We want 85% of people to survive their suicidal anhedonic depression for at least five years–and perhaps a full lifetime–after diagnosis."
Contact: Brenda Ellis, 615 343-6314
brenda.ellis@vanderbilt.edu
Posted on Wednesday, November 17, 2021 in Colin Walsh, Deep Forge, depression, Janos Stzipanovits, machine learning, Multi-Channel Psych program, predictive end-to-end model, Sandeep Neema, Wellcome Leap, Xenofon Koutsoukos,Computer Science, Electrical and Computer Engineering, Home Features, News, News Sidebar