Annual event underscores contributions of women in STEM fields

Marguerite Davis was one two biochemists who discovered vitamins A and B in 1913, though her university refused to pay Davis a salary for five of the six years she worked with Elmer McCollum, her more famous colleague. In 1946, Connie Myers Guion was the first woman in the U.S. to be named a professor of clinical medicine, though as recent as five years ago she did not have a biography on Wikipedia, the massive, open-collaborative online encyclopedia created and maintained by a community of volunteer editors.
Davis and Guion are among the female scientists and researchers whose biographies benefitted from the annual Wikithon organized and hosted by Women of VISE. The week-long effort focuses on contributing to and improving the quality of Wikipedia pages on women in science, technology, engineering and math. There is a significant gender gap on Wikipedia—fewer than 20 percent of biographies on the site are about women.
During the week, WoV members and volunteers added biographical content, citations and links to related pages to the Wikipedia pages of women in STEM fields. In all, two dozen people edited the online biographies of 32 women across a wide range of expertise of—from metallurgy to paleontology, medical imaging to computer engineering, remote sensing to comparative anatomy, and more.
The group of graduate student and faculty affiliates of the Vanderbilt Institute for Surgery and Engineering added the equivalent of 15 pages of text, made 73 edits and uploaded nine photographs to help improve the pages.
Biomedical engineering Ph.D. students Emelina Vienneau and Katie Ozgun, who are on the WoV steering committee, organized the Wikithon. "It was a was great opportunity to connect with VISE community members and improve the recognition of women in STEM," Ozgun said.
Vienneau has appreciated the opportunity to work on pages for women she admires, including Kathryn Nightingale, a biomedical engineering professor at Duke University who pioneered the development of a type of elastic imaging used in many commercial ultrasound systems.
"She is a personal role model for me," Vienneau said. "I enjoyed getting that one started up."
A few of the pages were for historical figures such as Guion and Davis, but most involved illuminating the work of more recent women in STEM fields. They included:
Ellis Meng, a biomedical engineering professor at the University of Southern California who has developed of novel micro- and nanotechnologies for biomedical applications;
Ayanna MacCalla Howard, a noted roboticist, entrepreneur and educator who has been at Georgia Tech and takes over as dean of the College of Engineering at The Ohio State University in March
Mukta Ghate Farooq, a metallurgical engineer working for IBM who has more than 220 U.S. patents;
Ruth S. DeFries, an environmental geographer and Macarthur Award winner who specializes in the use of remote sensing to study Earth's habitability under the influence of human activities;
Leslie Ying, a biomedical engineer at The State University of New York and editor-in-chief of IEEE Transactions on Medical Imaging;
Jennifer McGrath Fitzpatrick, one of the first female engineers at Google and currently the senior vice president for Google Maps; and
Kristina Curry Rogers, a paleontologist and professor at Macalester College who named two dinosaur species from Madagascar.
Since the first Wikithon, WoV contributions to the site have received more than 307,000 views.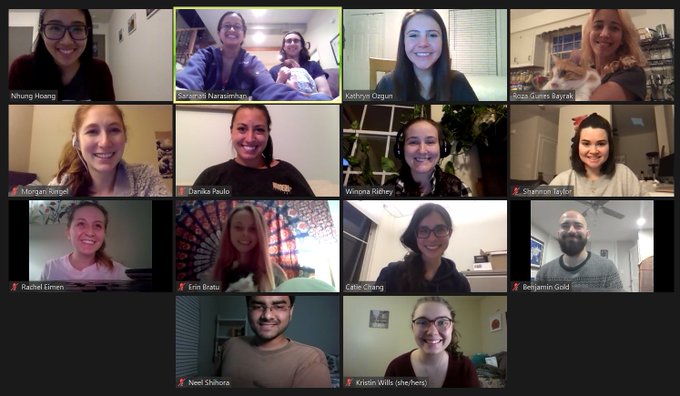 Posted on Wednesday, January 27, 2021 in ViSE, Women in STEM, Women of VISE Wikithon,Biomedical Engineering, Chemical and Biomolecular Engineering, Civil and Environmental Engineering, Electrical Engineering and Computer Science, Home Features, Mechanical Engineering, News, News Sidebar