Alumna's gift supports comprehensive program to aid women seeking leadership positions in engineering
The School of Engineering has launched a sweeping new initiative to cultivate and support women for engineering leadership positions that includes strategic experiences, expanded opportunities, and mentorship with faculty and alumni.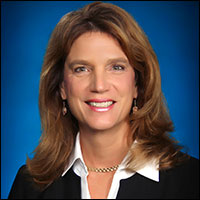 Fueled by an inaugural gift of $1 million from School of Engineering Distinguished Alumna and Board of Visitors member Cynthia 'CJ' Warner, BE'80, the initiative includes a wide range of programming for incoming first-year students, undergraduates, graduate students, and faculty members.
"The good thing is more and more women are in engineering school, but in the workforce there is not the same ratio of women in leadership positions," Warner said. "Many women eventually make decisions to drop out of engineering and do something else. They haven't felt as valued or as fulfilled."
Companies lose the value of diversity, she said. And women lose out on opportunities in fields they once enjoyed.
"We need something more," said Warner, who is president and CEO of Renewable Energy Group Inc., the largest North American producer of advanced biofuels. "There is no reason it should be hard."
The School of Engineering already is ahead of the pack in enrolling female students. When Philippe Fauchet became dean in 2012, 27 percent of undergraduates were female. In the Class of 2025, 42 percent are female, nearly double the national average of 23 percent. The goal is an even 50-50 split.
Significantly, the Women in Engineering Leadership Program also brings renewed focus to what happens after students enroll.
"We want to lead the way in cultivating a welcoming, inclusive culture that provides students who are committed to advancing gender equity in engineering with the tools, experiences, and training they need not only to be successful engineers but also seek and excel in leadership positions," said Fauchet, the Bruce and Bridgitt Evans Dean of Engineering.
"CJ is a dedicated partner and supporter of the Vanderbilt and School communities," Fauchet said. "As an alumna, she has mentored numerous young women in STEM fields, and we are grateful for her investment in this comprehensive program."
The program, which is funded now by gifts from and support from the dean's operating budget, will be highlighted as part of Vanderbilt Giving Day on April 5. Additional philanthropic gifts are sought for current use and to sustain and enrich programming over time. In total, the goal is to raise $10 million in endowment to support the program in perpetuity.
Julianne Vernon, associate dean for academic success, oversees the program. Components are being rolled out, evaluated, and modified based on student and faculty feedback and participation.
In engineering programs, female students still tend to be seen–erroneously–as having a lighter load and unable to do technical work, Vernon said. That sentiment has been around quite a while and hasn't gone away, which demands a targeted response with programming to close the "confidence gap" among female students and address any lingering biases of all students, she said.
Programming begins with a summer bridge opportunity, peer-to-peer mentorship, and pairing with a female graduate student and a female faculty member. Larger, informal group activities also are planned, as is financial assistance to attend and present at professional conferences.
"These meetings will give students a safe and reliable space to talk through some of the academic, emotional, and professional challenges female engineers face such as how to be more assertive in class, which research or internship opportunities to pursue, and how to find the right work-life balance," Vernon said.
The initiative aims to create connections and build community to position women for career growth. It leverages existing campus groups such as the Society of Women Engineers, Women in Computing, and Women of VISE.  Programming, paced to grow with the Class of 2025, also includes panel discussions and mentorship with a robust network of alumnae.
Warner said too often, and not with malice, female engineers must do more to "prove" themselves in the workplace. "At my first job, it was pretty shocking how differently I felt treated right from the beginning," she said. "I was not prepared for that."
Over the past three decades, Warner has held executive leadership roles at global energy companies including Sapphire Energy, Andeavor, British Petroleum, UOP and Amoco. And, Warner said, she still experiences that disparate treatment herself.
"We internalize it and allow it to inhibit our confidence," she said. "What I would love to hear from a young woman who has benefitted from this new program is how excited she is about her skill set and the ways she has looked into herself and reminded herself to be confident."
Click here to support the Women in Engineering Leadership Program.
Contact: Brenda Ellis, 615 343-6314
brenda.ellis@vanderbilt.edu