Engineering Professor Bennett Landman is a 2022 SPIE Fellow
Bennett Landman, professor and chair of the Department of Electrical and Computer Engineering, has been named a Fellow of SPIE, the international society for optics and photonics, for his achievements in medical image processing with robust and scalable methods for large-scale data analysis.
SPIE has announced 58 new Fellows of the Society for 2022 who will be acknowledged during the SPIE symposium of their choice throughout the year.
Fellows are SPIE members of distinction who have made significant scientific and technical contributions in the multidisciplinary fields of optics, photonics and imaging. They are honored for their technical achievement and for their service to the general optics community and to SPIE. Landman's SPIE activities include his service as co-chair of the SPIE Medical Imaging Image Processing Conference from 2017 to 2021.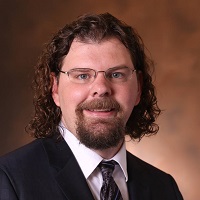 Landman's research concentrates on applying image-processing technologies to leverage large-scale imaging studies to improve understanding of individual anatomy and personalize medicine. He has appointments in computer science, biomedical engineering, radiology and radiological sciences, psychiatry and behavioral sciences, biomedical informatics, and neurology. He has received grant funding from the National Institutes of Health, the National Science Foundation, the Department of Defense, and industry support.
Landman has served as founding director of the Center for Computational Imaging at the Vanderbilt University Institute of Image Science and as chair of the faculty advisory board of the Vanderbilt University Advanced Computing Center for Research and Education. He is currently the principal scientist of ImageVU, Vanderbilt's clinical data reuse initiative in the Department of Radiology and Radiological Sciences. He also is affiliated with the Vanderbilt Institute for Surgery and Engineering, the Vanderbilt Brain Institute, and the Vanderbilt Kennedy Center.
At Vanderbilt from 2010 to 2021, Landman served on the faculty of the Electrical Engineering and Computer Science Department. In July 2021, he joined and became the first chair of the newly formed Electrical and Computer Engineering Department.
Landman received bachelor of science and master of engineering degrees in engineering and computer science from the Massachusetts Institute of Technology. After graduation, he worked in an image processing startup company and a private medical imaging research firm before returning for a doctorate in biomedical engineering from Johns Hopkins University School of Medicine.
SPIE, founded in 1955, has contributed more than $22 million in the past five years to the international optics community through advocacy and support, including scholarships, educational resources, travel grants, endowed gifts and public-policy development.
Of the notable SPIE fellow inductees this year, half are from the United States; the other half hail from countries across the globe, including Australia, China, Germany, Italy, Japan, Malaysia, Poland, the Republic of Korea, Singapore, Spain, Switzerland, Taiwan, and the United Kingdom. This year the Society welcomes its first Fellows from Egypt and Chile.
Contact: Brenda Ellis, 615 343-6314
brenda.ellis@vanderbilt.edu