Kidambi wins Department of Energy Early Career funding for isotope separation research
Piran Kidambi, assistant professor of chemical and biomolecular engineering, has been selected to receive funding for research as part of the U.S. Department of Energy's Early Career Research Program. The program is designed to bolster the nation's scientific workforce by providing support to exceptional researchers during the crucial early career period, when many scientists conduct their most formative work.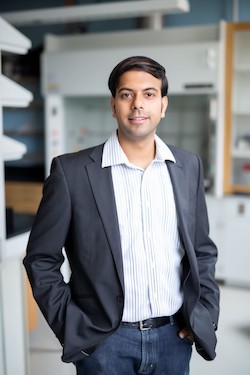 Kidambi is among 83 scientists around the country selected for the program and will receive approximately $750,000 over five years. His proposal, "Understanding Enhanced Isotope Sieving Through Defects in 2D Membranes" aims to answer fundamental scientific questions about how to separate similar variants of the same elements—isotopes—by using nanomaterials.
Isotopes are atoms of the same element that have equal numbers of protons and electrons, but different numbers of neutrons—which changes the atomic mass but not the chemical properties of the atom. These variants are extremely useful in medical diagnostic and treatment, quantum information science, nuclear power and national security, among other areas.
Kidambi's proposed project aims to use defects in 2D nanomaterials to enhance separation of isotopes. "Isotopes are analogous to indistinguishable twins with very minor differences," Kidambi said. "Separating one isotope from another is inherently challenging, and conventional isotope separation processes are extremely energy intensive—and are accompanied with adverse environmental effects. In this context, defects in 2D nanomaterials offer new and exciting possibilities for breakthrough advances."
More broadly, Kidambi's research is focused on understanding the synthesis of nanomaterials for health care, energy, electronic and catalytic applications. The group's multidisciplinary work leverages collaboration with academic, national lab and industrial partners. The lab is affiliated with the Vanderbilt Institute of Nanoscale Science and Engineering, the Interdisciplinary Materials Science Program and the Data Science Institute.
"Supporting talented researchers early in their career is key to fostering scientific creativity and ingenuity within the national research community," said DOE Office of Science Director Asmeret Asefaw Berhe. "Dedicating resources to these focused projects led by well-deserved investigators helps maintain and grow America's scientific skill set for generations to come."
To be eligible for this DOE award, a researcher must be an untenured, tenure-track assistant or associate professor at a U.S. academic institution, or a full-time employee at a DOE national laboratory who has received a Ph.D. within 10 years. Awardees were selected from a large pool of university- and national laboratory-based applicants based on peer review by outside scientific experts.
Posted on Wednesday, June 8, 2022 in atomically thin membrane, DoE Early Career Research Award, isotope separation, Nanomaterials, Piran Kidambi,Chemical and Biomolecular Engineering, Home Features, News, News Sidebar, Research