New fund to sustain Vanderbilt rocket team successes
Emeritus trustee creates Dalton Vanderbilt Aerospace Design Laboratory Fund to support lab's vision
A devoted and longstanding Vanderbilt University supporter has combined his interest in space exploration with his enthusiasm for the university's rocket team, winners of an unprecedented seven NASA Student Launch national championships in 10 years.
Mark F. Dalton, JD'75, emeritus trustee and former chair of the Vanderbilt Board of Trust, has established the Dalton Vanderbilt Aerospace Design Laboratory Fund to support the vision for the future of the exceptional interdisciplinary program in the School of Engineering.
The aerospace design lab is home to Vanderbilt rocketeers who also have won eight NASA payload design awards, the Association Aeronautique Astronautique de France Pierre Contensou Medal, the Abe Zarem Award for Distinguished Achievement in Aeronautics from the American Institute of Aeronautics and Astronautics, and a host of other awards from the AIAA, despite the lack of a formal aerospace program in the engineering school.
The $100,000 gift will provide immediate support for the lab to expand research projects, increase the competition budget, and nurture career development of its members through liaisons with new space companies.
"I was aware of the successes of the rocket team, but I hadn't visited the lab or met with Professor Anilkumar and the students," Dalton said. That changed in November 2021 when he spent an hour or so with A.V. Anilkumar and eight of the team members.
"Walking into the meeting, I thought this is an area of excellence at the university that deserves continuous support. Walking out, Wow," Dalton said. "The sustained excellence in NASA competitions over a decade is inspiring." Dalton was equally impressed by the commitment Anilkumar engenders and nurtures in the students, and the career outcomes. The number of aerospace companies that have hired our graduates is remarkable, he said.
"Mark's investment is deeply appreciated. Exceptional immersion programs with sustained successes like the Vanderbilt Aerospace Design Laboratory's contribute significantly to an enriching academic experience for our students and additional support for our faculty," said Philippe Fauchet, Bruce and Bridgitt Evans Dean of Engineering. "Thanks to Mark's generosity, Vanderbilt rocket teams will continue to bring engineering fundamentals from the classroom to life."
Dalton is the co-chairman of Tudor Group Holdings, Tudor Investment Corporation and their affiliates. Tudor manages hedge funds, private equity and venture capital. Previously, he was a senior executive with Kidder, Peabody & Co. and an attorney with Sullivan & Cromwell in New York City. Dalton joined the Vanderbilt Board of Trust in 2002 and served as its chairman from 2011 to 2017.
"Our interdisciplinary aerospace program has brought a lot of recognition to Vanderbilt over the last 15 years," said Anilkumar, professor of the practice of mechanical and aerospace engineering and director of VADL. "With equal doses of education, competition, and innovation in its structure, it is a model for excellence in fields where there is no formal departmental designation or resources."
Dalton will continue to invest in the fund and intends to do so each year. "I will be an enthusiastic supporter of Professor Anilkumar and the rocket team, and I hope others will become partners who share the vision for the future of the program." Vanderbilt trustees heard about VADL's successes and the current rocket projects when some of the team seniors presented at the February board meeting.
"Exceptional immersion activities and programs get students out of the classroom and help them develop into their full selves," Dalton said. "These activities and the competitions are important for self-realization."
The payback for Vanderbilt, he said, is a cohort of rocket team alumni who will continue to help our students. That's the case with former rocketeers who have remained close to their mentor Professor Anilkumar and help with career opportunities. "I believe a university is a community you never leave if you have fully engaged in the experience during your years on campus," Dalton added.
Dalton also thinks the successes and visibility of the rocket team creates a halo effect where an impression created in one area influences opinion in another. "It might cause people to sit back and say, 'Isn't Vanderbilt where the rocket teams win national competitions?' Reputationally, that's a win," Dalton said.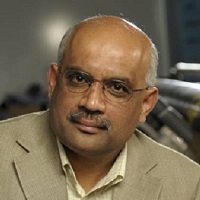 "Support from Mark Dalton is a recognition of the importance of our unique program to Vanderbilt in developing a pipeline of top aerospace engineering talent that will advance discoveries and scholarship with a broader impact," said Anilkumar, who was named AIAA Advisor of the Year in 2016.
"This support also will help us to retain some of our best students to pursue an application-oriented graduate study and help deepen alumni connections in the contemporary space launch industry by opening opportunities for our students to visit and train there," Anilkumar said.
Space race sparks interest
Dalton's interest in space began as "a child of the 60s" when Russia's Sputnik led the space race, and Mercury and Apollo missions captured his attention. In particular, he recalls watching aeronautical engineer and astronaut Neil Armstrong command Apollo 11 and walk on the moon in 1969.
"Neil and Carol Armstrong where neighbors in Telluride, Colorado, where my wife Susan and I live for part of the year," Dalton said. "My friendship with Neil and my respect for him deepened my interest in space exploration." Dalton's home in Colorado has an observatory at the top of a stair tower with a 14-inch Celestron telescope, and he has loaned one of his telescopes to Vanderbilt's Dyer Observatory, located on top of one of Nashville's tallest peaks.
Dalton's ties to Vanderbilt run deep, including remaining close to his best friends in law school, where his multimillion-dollar gift in 2019 provides support for the school's Law and Business Program that includes endowing a chair held by the program's director. He also has provided philanthropic support for other strategic initiatives across campus, including residential colleges and numerous capital projects.
Those ties were strengthened over the past decade as Dalton's eldest son Erik, BA'03, earned his degree in economics, followed by his youngest son Christopher, BA'09, who earned his degree in history. His middle son, Kurt, graduated from Tufts University. Dalton's niece, Emily Schneider (Wolff), BA'11, earned degrees in anthropology and art.
"As my connections to Vanderbilt have deepened, I've been drawn more and more into the life of the university," Dalton said. "This fund represents an investment in faculty and student excellence and in innovative immersion. VADL deserves it."
Click to go to the Dalton Vanderbilt Aerospace Design Laboratory Fund
Contact: Brenda Ellis, 615 343-6314
brenda.ellis@vanderbilt.edu
Posted on Wednesday, February 16, 2022 in A.V. Anilkumar, Dalton Vanderbilt Aerospace Design Laboratory Fund, interdisciplinary immersion program, Mark F. Dalton, rocketeers, VADL, Vanderbilt Aerospace Design Laboratory,Computer Science, Electrical and Computer Engineering, Home Features, Mechanical Engineering, News, News Sidebar