Quentin Millora-Brown willing to play his role in engineering climate change solutions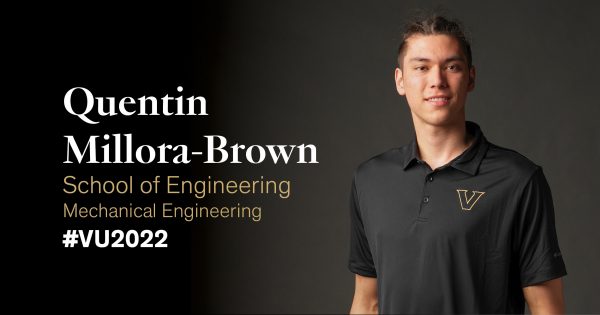 By Graham Hays
Quentin Millora-Brown, a senior forward on the men's basketball team, had his best individual season this year. A starter in 30 games, he led Vanderbilt in blocked shots and was second in rebounding. Perhaps even more importantly, he helped create the culture of success—a willingness among the team to challenge and support each other equally, no matter their individual roles—that led the Commodores to the brink of the National Invitation Tournament semifinals.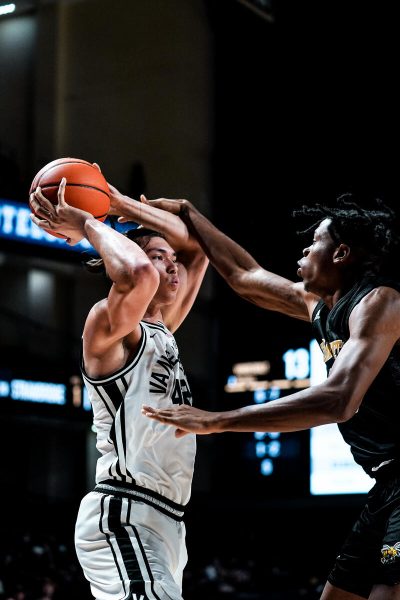 TEAM APPROACH TO CLIMATE CRISIS
Off the court, Millora-Brown knows that camaraderie alone won't solve society's most pressing issues, such as the climate crisis—a problem he is passionate about. But he believes the same team approach in pursuit of a larger goal will make a difference.
A mechanical engineering graduate, he is fascinated by conversations about moving away from fossil fuels and toward renewable energy—not just the headline-grabbing technologies but the small changes that will also be necessary for success.
"We can solve the big issues of how we drive cars without fossil fuels," he said. "But until we solve all the little things that people use gas for, like leaf blowers and lawn mowers, we're not really eliminating the problem. We're just fixing some of the symptoms along the way instead of solving it. What interests me is how do we solve that?"
"We say we're a family, and we mean it's a family," Millora-Brown said. "It doesn't matter who you are. On this team, everyone is equally important, and everyone has their role that matters just as much. Everyone is a part of this Vanderbilt family. I know if they need anything, I'm there for them. And if I need anything, they'll be there for me."
Millora-Brown will continue looking for answers next year when he returns as an engineering graduate student working in the Laser Diagnostics of Combustion laboratory at Vanderbilt. With an additional season of eligibility on the basketball court, he also will continue competing for the Commodores. Beyond that, he's ready for whatever role awaits.
"There are so many things that you can do with engineering," he said. "That's the reason I chose mechanical. I feel it gives me the most opportunity. I keep trying to learn more and more because there's more that I want to do with my life."