Sanjiv Gokhale named Engineering Endowed Director of Construction Management
Sanjiv Gokhale, professor of the practice of civil engineering and longtime director of the Construction Management graduate program, has been named the Engineering Endowed Director of Construction Management, effective July 1, 2022.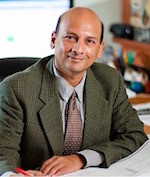 Gokhale joined the Vanderbilt civil engineering faculty as a visiting associate professor in 2001. In 2003, he was appointed associate professor of the practice and the construction management program was established, with the first cohort in 2004. A structural engineer by education and training, Gokhale has been involved in the design, construction, and program management of a variety of institutional, commercial, and recreational facilities.
"Over the past 18 years we have successfully matriculated more than 160 students who are serving the engineering and construction industries from health care to multi-family. In addition, building hospitals and offices and residential towers, our students have been instrumental in building nation's infrastructure from airports to water and waste water treatment facilities," Gokhale said.
Graduates of the Construction Management program are highly sought after and find a wide range of employment opportunities in design, consulting, and construction in the both the private and public sectors. The program currently boasts 100% internships and professional placement, Gokhale said.
"The steady growth of the construction management program and the extraordinary success of the annual Vanderbilt Healthcare Construction and Design Symposium are the results of Sanjiv's dedication and leadership," said Philippe Fauchet, Bruce and Bridgitt Evans Dean of Engineering. "The endowed directorship allows us to recognize an exceptional faculty member and acknowledge a significant program in the School of Engineering. I congratulate Sanjiv on his latest achievement."
"Sanjiv's visionary leadership transformed the Construction Management program from a departmental goal to a nationally distinguished reality with a focus on the special needs of health care construction," said David S. Kosson, Gass Family Chair in Energy and the Environment and Distinguished Professor of Civil and Environmental Engineering. Kosson served as chair of the Department of Civil and Environmental Engineering from 2000 to 2011. Establishing a CM program was one of his first objectives. "Hiring Sanjiv made it happen," Kosson said.
"Professor Gokhale's leadership of the construction management program at Vanderbilt has had a tremendous impact on virtually all our construction management students. Professor Gokhale also has been a catalyst for bringing together construction industry, academia, and other stakeholders such as the health care industry in the Nashville area and beyond," said Caglar Oskay, chair of civil and environmental engineering department.
Gokhale, a registered Professional Engineer in New York, is a Fellow of the American Society of Civil Engineers, and he has been recognized twice by the Construction Industry Institute as a recipient of its Distinguished Professor Award. He is active with CII through his work on three research teams. Gokhale is the author of Construction Management of Healthcare Projects, published by McGraw Hill in 2014.
His teaching awards include National Engineering Honor Society Tau Beta Pi's Teacher of the Year and a Vanderbilt School of Engineering teaching excellence award. He also mentors high school students, helping them explore careers in civil engineering.
Contact: Brenda Ellis, 615 343-6314
brenda.ellis@vanderbilt.edu