School of Engineering is #3 in Giving Day 2022; Challenge gifts unlocked
The Giving Day results are in: Almost 6,000 members of the Vanderbilt community, including alumni, students, faculty, staff, parents and friends, donated more than $5 million as of 11:00 a.m. on April 22, with donations still coming in. 
At the conclusion of the event on April 21, the School of Engineering landed at #3 in the Leaderboards with 463 donors and a total result of $543,860.20.  Earlier in the evening, the school had reached #1 but was eclipsed by the Owen Graduate School of Management, 428/$573,621.83; and athletics, 713/$1,442,608.90.
Engineering alumni-sponsored challenge gifts unlocked when donor participation reached key milestones:
Now in its sixth year, Giving Day is one of the university's most publicized fundraising celebrations and to date has raised more than $29 million to support scholarships, discovery, community and belonging at Vanderbilt.
"What a difference a day can make," said Melinda Phillips, assistant vice chancellor for annual giving. "At Vanderbilt, collaboration is part of our core identity. Giving Day is the embodiment of that. It shows the tremendous impact we can make when we come together—even in such a short amount of time. We are deeply grateful for the outpouring of generosity from the Vanderbilt community."
Vanderbilt community members from 48 U.S. states, plus 22 more countries on six continents, made gifts across many areas of the university, including schools, labs and institutes, athletics, student organizations, scholarship funds and many others.
The College of Arts and Science boasted the highest donor participation. The Class of 2024 rallied the most classmates to give back, with 139 members contributing. The Class of 1991 raised the most funds of any class, giving more than $128,000. The student organizations with the highest donor counts were the Rock Climbing Club and Vanderbilt Rowing Club. Both received an additional $1,500 challenge gift for this achievement.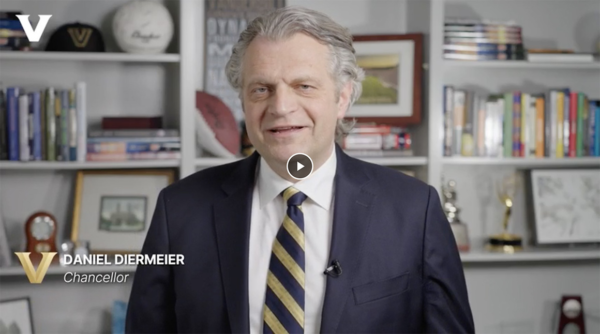 Chancellor Daniel Diermeier, Provost C. Cybele Raver and several deans and alumni organizations generously sponsored participation challenges and "power hour" dollar-for-dollar matches, amplifying the spirit and impact of Giving Day.
Other alumni-sponsored challenge gifts included:
An overall gift of $75,000 was unlocked when 5,000 donors made a gift.

50 percent of the Class of 2022 donated to the

Seniors Give Back Fund

, unlocking a $100,000 gift from McCartney Kay Wilkins, BS'01, and Jay Wilkins, BS'99, to Experience Vanderbilt, which will fund 200

undergraduate students who qualify for need-based financial aid with funding for extracurricular activities that have fees.

325 donors unlocked a $25,000 gift to the School of Nursing in memory of former faculty member Tom Christenbery, MSN'87, PhD'04, CNE.

20 donors unlocked a $10,000 gift from Rich Hull to the Vanderbilt in Hollywood Summer Internship Program and Scholarship Fund.
"Challenge gifts play such an important role in Giving Day because they both encourage participation and amplify impact," Phillips said. "We are especially grateful for the sponsors of our challenge gifts for leading the way."
To learn more about Giving Day results or make a gift, visit vu.edu/givingday.
Visit vu.edu/givingday for real-time results.
Contact: Brenda Ellis, 615 343-6314
brenda.ellis@vanderbilt.edu
Posted on Friday, April 22, 2022 in School of Engineering Underrepresented Student Program, Vanderbilt Giving Day 2022, Women in Engineering Leadership Program,Biomedical Engineering, Chemical and Biomolecular Engineering, Civil and Environmental Engineering, Computer Science, Electrical and Computer Engineering, General Engineering, Home Features, Mechanical Engineering, News, News Sidebar