Two Vanderbilt engineering professors elected into AIMBE's College of Fellows
Christos Constantinidis, professor of biomedical engineering, and Zhaohua Ding, research professor of electrical engineering, have been elected into the 2022 class of the American Institute for Medical and Biological Engineering's (AIMBE) College of Fellows.
Recipients of this honor, considered one of the highest in the biomedical engineering discipline, are chosen for exceptional leadership and achievements in medical and biological engineering.
The elected Fellows of AIMBE consist of the top two percent of biomedical engineers and their contributions impact biomedical devices and processes, treatment of diseases and public policy related to all aspects of bioengineering.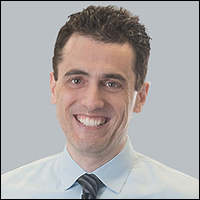 Constantinidis and Ding will be inducted during AIMBE's virtual Annual Event March 25 along with 152 colleagues who make up the Fellow Class of 2022. The addition of these new inductees brings the total of AIMBE Fellows to 22 in the School of Engineering.
Constantinidis was selected for "innovative research in neurophysiology of cognitive functions, and neuroengineering contributions to deep brain stimulation." Ding was chosen for "outstanding contributions to the development and applications of novel image analysis methods for assessing brain structure and function."
Constantinidis joined the engineering faculty in January 2021. He is a member of the Vanderbilt's Brain Institute and the Vision Research Center. He joined the School of Engineering from the Wake Forest School of Medicine.
Constantinidis' research focuses on uncovering how neuronal activity in the brain impacts cognitive function. He is the principal investigator of National Institutes of Health grants studying cognition maturation in a nonhuman primate model, examining how functional properties of neurons change in the prefrontal cortex from adolescence through adulthood.
Ding's research focuses on processing and analysis of magnetic resonance images, understanding fundamental structure-function relations of the neural network in human brain via mathematical modeling. One of his current projects is developing advanced MRI techniques for imaging brain functional structure.
Ding also is a research professor in the Vanderbilt University Institute of Imaging Science. He joined the VUIIS faculty in 2002 and the Vanderbilt School of Engineering faculty in 2013.
Contact: Brenda Ellis, 615 343-6314
brenda.ellis@vanderbilt.edu
Posted on Friday, February 18, 2022 in AIMBE, AIMBE fellow, Christos Constantinidis, neuroengineering, Zhaohua Ding,Biomedical Engineering, Electrical and Computer Engineering, Home Features, News, Research