Vice Provost Raghavan named Distinguished Professor of Computer Science
Padma Raghavan, Vanderbilt University's vice provost for research and innovation, has been named a Distinguished Professor of Computer Science in the School of Engineering. The promotion is effective Oct. 25, 2022. Raghavan joined Vanderbilt as a vice provost and professor of computer science in 2016.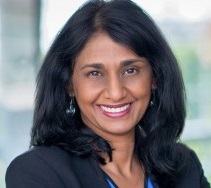 Before joining Vanderbilt, Raghavan served as the associate vice president for research and strategic initiatives at Pennsylvania State University, where she was the founding director of the Institute for Computational and Data Sciences and distinguished professor of computer science and engineering.
"We are proud to have on our faculty a nationally recognized computer scientist and exceptional Vanderbilt leader in Professor Raghavan," said Philippe Fauchet, Bruce and Bridgitt Evans Dean of Engineering.
As an expert in supercomputing, Raghavan's contributions concern new algorithms and models to achieve scalable parallelism, enable fault-tolerant processing, and increase energy efficiency.  In recognition of the latter, Raghavan was selected as a fellow of the Institute of Electrical and Electronic Engineers in 2013.
Raghavan also is active in the field, serving on the National Science Foundation Computing and Information Science and Engineering Directorate advisory committee.  She currently serves on the Board of Governors of UT-Battelle, which operates the Department of Energy's Oak Ridge National Laboratory.  Earlier in 2022, Raghavan was named to the President's Committee on the National Medal of Science.
Contact: Brenda Ellis, 615 343-6314
brenda.ellis@vanderbilt.edu