Adams accepts invitation to join Springer Nature U.S. Research Advisory Council to advise on future of research and research communication
Douglas Adams, vice dean of the Vanderbilt School of Engineering and associate provost in the Office of Research and Innovation, has been named a member of the Springer Nature U.S. Research Advisory Council. Springer Nature is an academic publishing company that includes leading publications such as the Nature portfolio journals and Scientific American. Adams will attend the USRAC's annual meeting at Nature's New York office in June.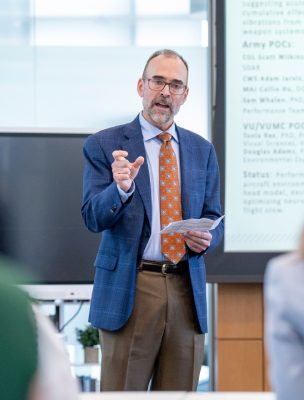 The council meets annually in a roundtable workshop format with members drawn from institutions, funders, policymakers and research-driven organizations. Members advise on topics related to research culture and how research contributes to a more equitable society. These topics address Springer Nature's strategic intent to provide the best possible service to the U.S. research ecosystem.
"I am so grateful to the editors-in-chief at Springer Nature for their invitation to serve as a member of the U.S. Research Advisory Council. The research culture at Vanderbilt is vibrant and multidisciplinary, and our researchers produce extraordinary scholarship that is making tremendous impacts on society," said Adams, who is Daniel F. Flowers Professor, Distinguished Professor of Civil and Environmental Engineering and professor of mechanical engineering at Vanderbilt. "I look forward to sharing examples of the pathbreaking research at Vanderbilt with my fellow members on the council as we discuss the future of research and research communication." 
Adams joins the USRAC alongside vice provosts for research, chief scientific officers and biotech executives as the council enters its third year. Cohort members include leadership at Scripps Research Translational Institute, the Gordon and Betty Moore Foundation and NASA, among others.
"In times of rapid change and progress in research and research communication, publishing must evolve in step with the needs of the community. We realize that the solutions we offer are only as good as the value they provide to research, researchers and the organizations that shape the research ecosystem. We are excited to launch the USRAC so we can be better informed on the key priorities of the stakeholders we serve," said Jennifer Griffiths, Springer Nature's head of academic affairs for North America.
The USRAC was initiated in 2021 by a Springer Nature steering group and task force representing its diversity of research publishing and solutions activity, according to a release. The group and task force included Laura Helmuth, editor-in-chief of Scientific American, and Magdalena Skipper, editor-in-chief of Nature.
Posted on Monday, March 20, 2023 in Daniel F. Flowers Professor, Distinguished Professor of Civil and Environmental Engineering, Douglas Adams, Springer Nature, Springer Nature U.S. Research Advisory Council, Vanderbilt Office of Research and Innovation,Civil and Environmental Engineering, Home Features, News, News Sidebar, Research