Biomedical engineering professor helps draw a roadmap for academia to achieve more diversified hiring
A team of biomedical researchers from 16 top engineering programs in the nation, which includes Audrey Bowden, Dorothy J. Wingfield Phillips Chancellor's Faculty Fellow and associate professor of biomedical engineering, has developed a set of processes that helps eliminate traditional barriers to historically excluded groups pursuing academic careers in biomedical engineering.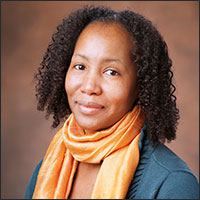 To help diversify faculty hiring, the team published a hiring roadmap this week in the journal Nature Biomedical Engineering. The problem, the researchers argue in the paper, is that departments "lack the education and skills needed to effectively hire faculty candidates from historically excluded groups."
The authors present six major steps that deans, department chairs, faculty and administrators can take to overhaul their hiring processes.
"In addition to my work as a researcher, I have a strong passion for ensuring that institutions like Vanderbilt are able to recruit, develop and support an excellent faculty," Bowden said.
Among the areas of focus in the Nature pieces are detailed guidelines on how to prepare and plan for a search, how to interview inclusively and how to showcase a department or institution's vision on diversity. All are founded on evidenced-based best practices as well as the collective experiences of the authors.
The project grew out of a group called BME Unite, an informal network of dozens of biomedical engineers that came together in 2020. This group has formed several sub-committees that have published papers in scientific journals to combat issues of discrimination and lack of representation in academia.
Roadmap for Equitable Faculty Hiring Practices
Here is a summary of their recommendations:
Prepare the Department: Getting buy-in at all levels, from staff, to faculty to leadership is key. People aren't going to want to work in environments where they don't feel welcome.
Plan the Search: A job search can take several months, but departments should spend significant time making a game plan for the search in advance. During that time, focal points should include making sure everyone is aligned in what they are looking for in a candidate, building a strong search committee, training them to complete the task, assessing roadblocks from past searches and revising materials to embrace new hiring strategies.
Recruit a Diverse Pool: The search committee and department must actively search for and recruit talented applicants who bring diverse lived experiences to the department.
Access Holistically: To diversify the biomedical engineering faculty, search committees and departments must break out of entrenched patterns of overlooking and undervaluing exceptional candidates from historically excluded groups during their assessment. This includes careful and transparent use of rubrics.
Interview Inclusively: To level the playing field, the researchers recommend being transparent about the interview process. They also advocate for including students in the process, collecting independent feedback after interviews and mitigating the impact of potentially toxic faculty members.
Recruit Proactively: Once a top candidate has been identified, they should get the opportunity to meet students and broad members of the university community. Showcasing the department and its vision and making the environment equitable in advance can increase the chance that the prospective faculty member will accept the offer.
Posted on Thursday, August 17, 2023 in Audrey Bowden, biomedical engineering, BME Unite, diversity hiring, diversity roadmap, Nature Biomedical Engineering,Biomedical Engineering, Home Features, News, News Sidebar