Chris Rowe selected for prestigious Harvard program to boost Nashville's biomedical sector collaboration
Chris Rowe, executive director for industry collaborations within the Office of the Vice Provost for Research and Innovation's Center for Technology Transfer and Commercialization and professor of the practice of engineering management, has been selected for the 2023 Young American Leaders Program at Harvard Business School by Global Action Platform, a local partner for the program, which also collaborates with Vanderbilt's Owen Graduate School of Management.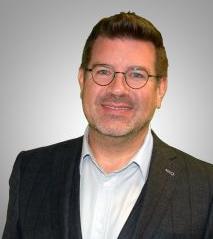 Rowe was among 10 Nashville leaders selected for an intense workshop over the summer with the goal of building a biomedical strategy for the region using cluster models created by Harvard economist Michael Porter.
"I'm excited to participate in this unique opportunity," Rowe said. "I've taught Michael Porter's research in my own classes for nearly 20 years. The chance to join such a learning experience in person is thrilling."
Cluster models suggest that businesses and institutions connected by a shared industry or field, and that are geographically co-located, can drive regional economic growth by increasing productivity, innovation and business creation.
Workforce skills, schools and infrastructure are not improving fast enough, according to Global Action Platform research, and the lag will cause an unsustainable divergence in the U.S. economy—particularly among working- and middle-class Americans.
A stated goal for the program is to develop a dynamic network of Nashville leaders to work across traditional boundaries to create prosperity and inclusive growth for all Nashvillians.
"Global Action Platform is committed to supporting the creation of a globally competitive innovation hub for shared prosperity in Nashville," said Scott T. Massey, chairman and CEO of Global Action Platform, in a release. "Through this collaboration, we hope to help enable emerging and established local leaders to work together for the shared growth and prosperity of our region in today's global economy."
Nashville's strong biomedical community covers a wide range of fields, including medical research, health care technology, pharmaceuticals and patient care. A biomedical cluster strategy for the region would address concerns about U.S. competitiveness on the global stage.
"I'm counting on the connections I make in this program, both locally and nationally, to help propel my hometown's success," said Rowe, BE'96, M.Eng'98, Ed.D.'08.
The Young American Leaders Program convenes leaders from 14 U.S. cities who are working across sectors to help their communities prosper. Other participating cities include Boston, Detroit, Miami, Minneapolis-St. Paul, Salt Lake City and Seattle. 
Previous Vanderbilt faculty and staff members who have taken part in the program include:
Bonnie Dow

, professor of communication studies and dean of academic affairs for the College of Arts and Science (2021)

Charleson Bell

, research assistant professor of biomedical engineering and director of entrepreneurship and biomedical innovation at the 

Wond'ry, Vanderbilt's Innovation Center (2022)

George Wilson

, assistant director of new venture programs at the Center for Technology Transfer and Commercialization (2022)