Computer science alum Ashwin Kumar named 2023 Knight-Hennessy Scholar
Vanderbilt alum Ashwin Kumar, MS'22, has been selected from a pool of more than 7,000 applicants for the 2023 cohort of the Knight-Hennessy Scholars program. Knight-Hennessy is a multidisciplinary, multicultural graduate scholarship program, where scholars receive up to three years of financial support to pursue graduate studies at Stanford. Scholars are selected based on their demonstration of independence of thought, purposeful leadership and civic mindset.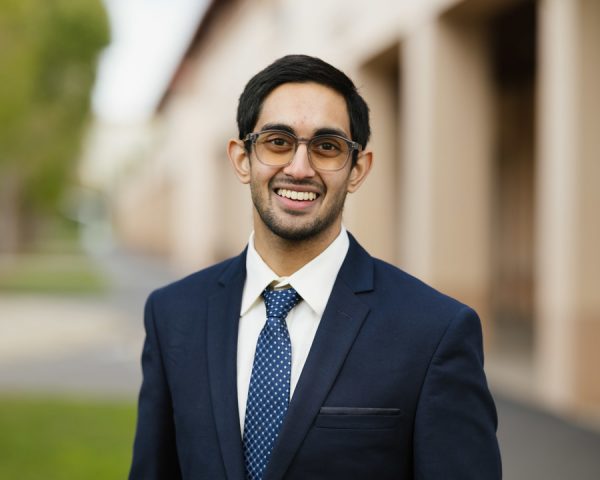 "In a world that continues to grow more complex, Knight-Hennessy Scholars are building the knowledge, skills and community needed to address our biggest challenges, from climate change to immigration to equity in health care and education—and so much more," said John L. Hennessy, Stanford University president emeritus and the Shriram Family Director of Knight-Hennessy Scholars. "I believe these scholars will help build a better future for all of us."
Kumar graduated from Vanderbilt University with a bachelor's degree in computer science and neuroscience and a master's degree in computer science. While at Vanderbilt, he conducted research to better understand and characterize the pediatric spinal cord.
"Vanderbilt provided me with a wealth of opportunities to develop both personally and academically, and I am grateful for the experiences and support that have prepared me for my career aspirations," Kumar said. "I am particularly grateful to Dr. Seth Smith and Dr. Bennett Landman, as well as my lab colleagues, for their guidance and support in my academic journey. Vanderbilt's supportive community and emphasis on personal and intellectual growth made it an ideal place for me to learn, take risks and develop the skills needed to pursue my goals."
Kumar is pursuing a Ph.D. in biomedical physics at Stanford School of Medicine. The Knight-Hennessy Scholarship will help support this academic endeavor.
"Being a Knight-Hennessy Scholar is a great honor and opportunity for me," Kumar said. "I am both excited and humbled to have been selected for this prestigious scholarship, and I believe that it will synergistically augment my Ph.D. experience. The Knight-Hennessy Scholars program will provide me with a unique opportunity to learn from a diverse community of scholars and highly accomplished peers who share a common goal of making a positive difference in the world. I am particularly thrilled about the opportunities to develop my communication and leadership skills, such as storytelling, and engage in interdisciplinary learning."
Kumar aspires to advance clinical neuroscience knowledge that will shape the future of medicine. He intends to develop biomedical imaging acquisition and analysis techniques for understanding the human nervous system and related disorders. Additionally, Kumar plans to pursue teaching and mentorship opportunities.
"My long-term aspiration remains to become professor and principal investigator, which means that I will lead a lab, direct interdisciplinary research collaborations and mentor diverse student populations," he said. "I hope to utilize the relationships and friendships built through KHS to shape the future of medicine."
Kumar joins 84 other scholars in the program's sixth cohort since its inception. The new cohort is made up of students from 29 countries who will pursue degrees in 38 graduate programs at Stanford.
Those interested in the Knight-Hennessy Scholarship or other competitive fellowships should contact Elizabeth Harrington Lambert, associate director of fellowships and scholarships at Vanderbilt.
About the Career Center
The Career Center supports all undergraduate students, graduate students (STEM, humanities and social science disciplines), postdoctoral fellows and Vanderbilt alumni up to two years after graduation.
About the Fellowships Team
The Fellowships Team supports all Vanderbilt students, postdoctoral fellows and alumni who are eligible to apply for the awards that require institutional nomination. More information on supported fellowships is on the Career Center website.
About the Knight-Hennessy Scholars Program
Announced in 2016, Knight-Hennessy Scholars is named for Phil Knight, MBA'62, philanthropist and co-founder of Nike Inc., and John Hennessy, chairman of Alphabet Inc. and president emeritus of Stanford. Knight-Hennessy Scholars is the largest fully endowed graduate fellowship in the world.