Dean Philippe Fauchet urges Congress to support engineering education and research
Philippe Fauchet, the Bruce and Bridgitt Evans Dean of Engineering at Vanderbilt University, met with members of Congress last week while in Washington, D.C., to emphasize the integral role that engineering research plays in strengthening the United States' competitiveness and security. He urged members of Tennessee's congressional delegation to continue to support this work by ensuring adequate federal funding in fiscal year 2024 for the agencies that support engineering education and research—namely the National Science Foundation, the National Institutes of Health and the federal departments of defense and energy.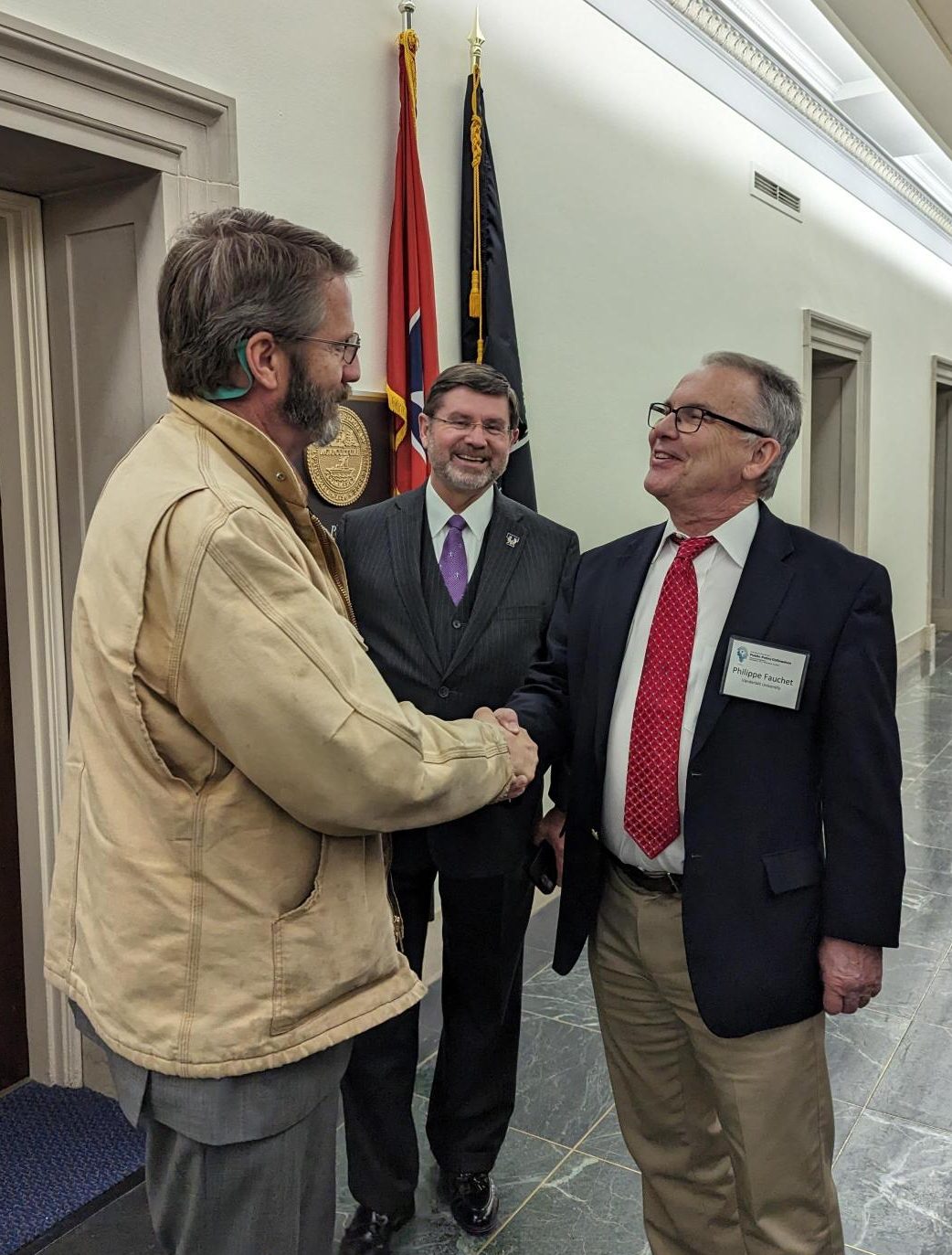 Fauchet was joined by his contemporaries, Interim Dean Lin Li from Tennessee State University and deans Matthew Mench from the University of Tennessee-Knoxville, Okenwa Okoli from the University of Memphis and Joseph Slater from Tennessee Technological University. The advocacy day was part of the American Society of Engineering Education's Public Policy Colloquium, which brings together engineering deans from across the country to advocate for the most pressing federal policies that impact engineering education and research.
Vanderbilt Associate Director of Federal Relations Heather Bloemhard, in collaboration with her counterparts at participating institutions, organized a group meeting with staff from the offices of Sens. Marsha Blackburn (R-TN) and Bill Hagerty (R-TN) and U.S. Reps. Mark Green (R-TN), Steve Cohen (D-TN), John Rose (R-TN), Tim Burchett (R-TN) and Chuck Fleishmann (R-TN). The deans highlighted the key role their universities have in the economic growth of the state, region and nation—from educating the engineering workforce to developing the innovations that will fuel this growth. Their key message was that Congress needs to fully realize the vision of last year's CHIPS and Science Act by funding agencies like NSF.
"I welcomed the opportunity to tell the story of the productive partnerships Vanderbilt's School of Engineering and our peer institutions across the state have with numerous federal agencies to support vital research in areas ranging from health care and defense to energy and entrepreneurship," Fauchet said. "My colleagues and I also delivered positive news about the healthy outlook for educating and training a new generation of innovative, solutions-oriented STEM leaders at all levels of higher education."
During the meetings with policymakers, Fauchet highlighted the critical need to foster a stronger STEM workforce of domestic and international talent to ensure U.S. leadership. He drew attention to a few of the innovative projects Vanderbilt has been a part of recently, including the university's selection as the lead institution for NSF's new Mid-South Innovation Corps Hub, which will provide training to academic researchers across all science and engineering fields and is expected to help the region maximize its innovation potential.
Fauchet went on to discuss Vanderbilt researchers' partnership with the 101st Airborne Division at Fort Campbell to design a groundbreaking exoskeleton with the power to relieve stress on soldiers' backs. He also detailed Vanderbilt's collaboration with other universities, Nissan North America, Toyota, GM and the Tennessee Department of Transportation to test 100 AI-equipped vehicles last November in an effort to reduce human-caused traffic jams. Through sharing the stories of these successful endeavors, he emphasized the importance of federal research funding.
"In light of the difficult funding environment we are heading into, it is imperative that Vanderbilt demonstrates to Congress the significant economic impact the university has on the state and nation and how that impact is largely possible due to partnerships with the federal government," Bloemhard said. "We are grateful to Dean Fauchet for the decade-plus of leadership he brought to the Tennessee engineering deans' annual advocacy. He has set an excellent example of how to tell the stories that best Photoillustrate the impact of federal funding on people and society."
Posted on Friday, February 17, 2023 in ASEE Deans Public Policy Colloquium, Bruce and Bridgitt Evans Dean of Engineering, engineering education, engineering research, Philippe Fauchet, Vanderbilt University Federal Relations,Home Features, News, News Sidebar