Jules White offers second free ChatGPT online course; Enrollment opens today
Open enrollment starts Wednesday, Sept. 13, for Vanderbilt's second free ChatGPT online course taught by Jules White, associate dean for strategic learning programs and professor of computer science. The  course is on the Coursera platform and focuses on mastering ChatGPT's new Advanced Data Analysis tool.
White designed his ChatGPT Advanced Data Analysis course for everyday ChatGPT users who are interested in becoming superusers.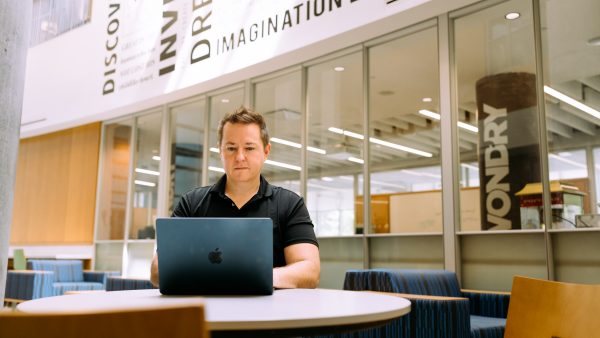 The beginner-level class will take approximately 10 hours to complete—three weeks at three hours a week—but the learn-at-your-own-pace schedule is flexible.
The course is free to audit; however, learners can opt to pay $49 to earn a certificate that can be shared with professional networks or employers. Through Coursera for Vanderbilt, Vanderbilt faculty, staff and students can earn this shareable certificate at no cost. To access Coursera for Vanderbilt, please log in using your Vanderbilt email address. More than 3,000 people have already enrolled.
Although "advanced" is included in the name of the tool and the course, White's self-paced course is intended for anyone who has a ChatGPT+ subscription. Although it can be completed in as little as 10 hours, no prior knowledge of the large language model is required. Learners who have completed or are currently enrolled in White's Prompt Engineering for ChatGPT course are great candidates for the newly launched course.
"Advanced Data Analysis is undoubtedly one of the most advanced generative AI tools available," White said. "Imagine you are holding a shovel about to dig a hole. Your shovel looks down and sees there is a rock in the way. The shovel jumps out of your hands, builds a pickaxe, breaks up the rock and then jumps back in your hands so you can keep digging. Just like this shovel, Advanced Data Analysis can identify problems without your prompting, and then build the necessary tools to solve these problems and accomplish your end goal."
What makes Advanced Data Analysis so remarkable? It has the ability to write its own software tools to allow it to complete new tasks.
Ask the tool to create a PowerPoint presentation, and it will write its own software tool to generate the PowerPoint file. Ask the tool to read and outline a PDF, and it will write software to extract the contents of the PDF. Ask the tool to resize a zip file full of selfies, and it will write software to extract the images and resize each one for you.
Before OpenAI's development of the tool, ChatGPT users had to cut and paste data in the form of text to get it to work with their data. Now, with Advanced Data Analysis, users can upload different types of files, such as PDFs, images, PowerPoints and videos, and then ask ChatGPT to help perform tasks with these files.
Those enrolled in White's ChatGPT Advanced Data Analysis course will learn several use cases for the revolutionary tool such as:
Visualizing and analyzing raw data from Excel sheets and then transforming the visualizations into PowerPoint slides or other formats (Example: You could upload an Excel sheet with admissions data and have ChatGPT create a nicely formatted admissions report with key learnings that is inserted into a PowerPoint presentation.)
Having ChatGPT read your PowerPoint slides or documents and ask you challenging follow-up questions to prepare for a quiz
Uploading a large document and then having ChatGPT answer specific questions about its contents or apply the document's learnings to real-world situations (Example: You could upload several RFPs and ask ChatGPT to write a summary, select a vendor and generate five follow-up questions for each vendor.)
Producing social media and marketing content from a series of documents or video transcripts
Automating the resizing and editing of videos or images while also cataloging them in a CSV
By the end of the course, learners will understand how to converse with ChatGPT Advanced Data Analysis to accomplish these tasks, how to think about problem-solving and which types of tasks are a good fit for the tool.
"You're going to learn how to use Advanced Data Analysis to augment your intelligence, creativity and productivity," White said.
"Vanderbilt has quickly established itself as a leader in understanding and using AI-driven tools like ChatGPT for maximum effectiveness and impact," said Krish Roy, the Bruce and Bridgitt Evans Dean of the School of Engineering and University Distinguished Professor. "Together with Coursera, our faculty have been able to expand global access to these important new skills. With this latest course—focused on using ChatGPT's Advanced Data Analysis tool—Vanderbilt continues to lead the way in workforce development and upskilling."
Visit Coursera's website to learn more and enroll in Vanderbilt's ChatGPT Advanced Data Analysis course.
In addition to White's ChatGPT courses, Vanderbilt faculty have partnered with Coursera to launch a range of academic offerings, many of which can be found on the Vanderbilt Online website.
Vanderbilt faculty who are interested in developing new online or hybrid offerings through Coursera can partner with the Office of Digital Education to bring their content to a global audience. Connect with the Office of Digital Education today to discover what's possible.